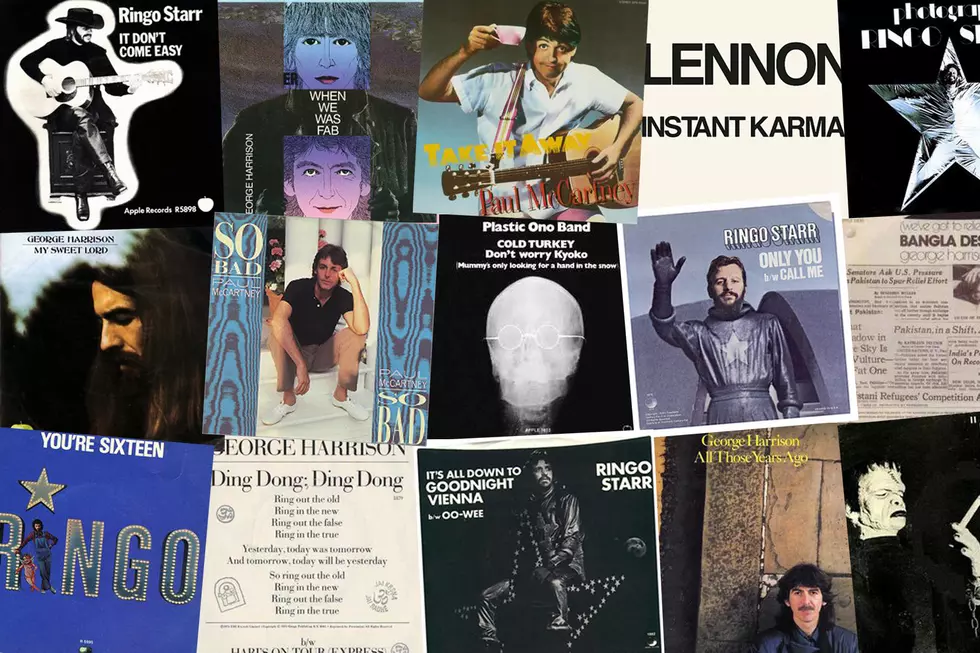 Before Dolly: 17 Other Times Ex-Beatles Teamed Up on Charting Hits
UCR
The Beatles charted more than 60 singles during their brief career, a number unmatched by any other band in history. But the hits didn't stop when the Fab Four broke up. Every Beatles member enjoyed a successful solo career; John Lennon, Paul McCartney, George Harrison and Ringo Starr each received Rock & Roll Hall of Fame induction as solo acts, too.
Even though they decided to call it quits as a group, the four former Beatles still regularly collaborated after the band's demise. Billboard was technically correct to note that Dolly Parton's 2023 cover of "Let It Be"- which featured McCartney and Starr - was the first time two former Beatles "have shared credited billing with one another on an entry on a Billboard songs chart outside the group."
But all that means is that previous post-Beatles collaborations, like 1981's No. 2 hit "All Those Years Ago," for example, were credited to "George Harrison" instead of "George Harrison (featuring Paul McCartney and Ringo Starr)," even though all three former bandmates appear on the track. As you will see in the below list of 17 Other Times Ex-Beatles Teamed Up on Charting Hits, there were plenty of times they appeared on hit records together.
John Lennon (with Ringo Starr), "Cold Turkey" - No. 30 in 1969
"Cold Turkey" could have easily ended up as a Beatles track. John Lennon presented the song to Paul McCartney as they were finishing the Abbey Road album and suggested the Fab Four record it. McCartney rejected the idea, and "Cold Turkey" instead became the second solo single issued by Lennon. Lyrically, the song was inspired by his efforts to kick a heroin addiction. It was recorded in September 1969, with Ringo Starr providing the song's backbeat; Eric Clapton and bassist Klaus Voormann also played on the track.
John Lennon (with George Harrison), "Instant Karma" - No. 3 in 1970
One of the most popular songs of John Lennon's solo career, "Instant Karma" really did come together in an instant. On the morning of Jan. 27, 1970, he penned the song in roughly an hour. He immediately booked studio time for later that day and called up George Harrison to contribute. The Beatles bandmates got together that day with bassist Klaus Voormann, drummer Alan White, organist Billy Preston and singer Yoko Ono also contributing. Phil Spector produced the single, which was recorded and mixed in one night. Officially released just a few days later, "Instant Karma" became the first solo single by a member of the Beatles to sell a million copies.
READ MORE: How Two Beatles Inspired Gary Wright's 'Dream Weaver'
George Harrison (with Ringo Starr), "My Sweet Lord" / "Isn't It a Pity" - No. 1 in 1970
George Harrison, frustrated with being relegated to the third songwriter position in the Beatles, jumped at the chance to release an epic collection of solo material following the band's breakup. The result was All Things Must Pass, a triple album that remains celebrated all these years later. A range of musicians played on All Things Must Pass, including Harrison's old Beatles buddy Ringo Starr. From the album, Harrison released the double A-side single "My Sweet Lord" and "Isn't It a Pity." The former was a soulful song that mixed Christian and Hindu spiritual themes; the latter was a remnant from the Beatles years that had been rejected by the group. "My Sweet Lord" / "Isn't It a Pity" topped charts around the world and became the first No. 1 by a former Beatle.
Ringo Starr (with George Harrison), "It Don't Come Easy" - No. 4 in 1971
After Ringo Starr contributed to George Harrison's mammoth All Things Must Pass, Harrison returned the favor by producing, co-writing and playing guitar on a pair of singles with the drummer. The first, 1971's "It Don't Come Easy," was built upon an idea Starr had come up with a few years earlier as the Beatles were falling apart. Unsure about the future, but also frustrated that he was regularly regarded as the weakest songwriter in the band, Starr penned a song called "You Gotta Pay Your Dues," which eventually evolved into "It Don't Come Easy." The track would go through several changes, recording sessions and overdubs in 1970, before being released as a stand-alone single in 1971. It was a huge success and pivotal to establishing Starr as a solo act.
George Harrison (with Ringo Starr), "Bangla Desh" - No. 23 in 1971
Inspired by the death and destruction caused by the 1970 Bhola cyclone and the Bangladesh Liberation War, George Harrison wrote the heartfelt "Bangla Desh." He recruited several of his famous friends to contribute to the track, including Leon Russell, Billy Preston and Ringo Starr. The single was released just days before Harrison's star-studded Concert for Bangladesh at Madison Square Garden. "Bangla Desh" hit No. 10 in the U.K. and peaked at No. 23 in the U.S. It also helped raise thousands of dollars for UNICEF and is regarded as the first charity single in music history.
READ MORE: Top 25 Partial Beatles Reunion Songs
Ringo Starr (with George Harrison), "Back Off Boogaloo" - No. 9 in 1972
Following right behind Starr's hit "It Don't Come Easy" was "Back Off Boogaloo." Once again, Harrison co-wrote, produced and played guitar on this Starr solo single. The track was inspired by T. Rex singer Marc Bolan, who was a close friend of Starr's. As you'd expect, the song featured plenty of glam rock swagger, with Harrison throwing in some fiery slide guitar for good measure. Many have speculated that some of the song's lyrics were designed as a swipe at Paul McCartney, but Starr has continually insisted that's not the case.
Ringo Starr (with George Harrison), "Photograph" - No. 1 in 1973
The Ringo Starr/George Harrison connection came together again for this 1973 chart-topper. That's Harrison strumming a 12-string guitar and providing vocals behind Starr on "Photograph." The track, which focuses on the lone remnant of a lost love, was initially written by the two former bandmates in 1971 as they vacationed on a luxury yacht in the south of France. Two years later, they'd get together with a handful of session musicians to record the song. "Photograph" would be released as the lead single from Starr's third solo album, Ringo. It hit No. 1 in the U.S., Canada and Australia, and peaked within the Top 10 in an additional eight countries.
Ringo Starr (with Paul McCartney), "You're Sixteen" - No. 1 in 1973
Ringo Starr's first two solo albums were made up of material originally written by other artists. He started to stay from that formula for 1973's Ringo, co-writing four of the 10 tracks. The other songs were either written specifically for Starr or cover songs. The latter was the case for "You're Sixteen," written by the Sherman Brothers and originally recorded by Johnny Burnette in 1960. There's something slightly creepy about a guy in his 30s  singing about his love of a teenage girl, but nobody seemed to bat an eye in 1973 when the song became a chart-topping hit. Paul McCartney sang backing vocals on the track.
Nilsson (with Ringo Starr and George Harrison), "Daybreak' - No. 39 in 1974
Singer-songwriter Harry Nilsson enjoyed a close friendship with the Beatles before and after the group's demise. In 1974, Nilsson starred in Son of Dracula alongside Ringo Starr. The movie – which was distributed by Apple Films, a division of the Beatles Apple Corps company – was roundly panned, but its soundtrack offered some interesting material. Its only single, "Daybreak," featured Starr on drums and George Harrison on cowbell. It was a minor hit, peaking at No. 39 on the Billboard Hot 100.
Ringo Starr (with John Lennon), "Only You (And You Alone)" - No. 6 in 1974
At the suggestion of John Lennon, Ringo Starr included a cover of Buck Ram's "Only You (And You Alone)" on his 1974 LP Goodnight Vienna. Lennon played acoustic guitar on the song, which became a Top 10 hit. He also recorded a guide vocal, which was removed when Starr recorded his vocal part. Decades later, the version of "Only You (And You Alone)" with Lennon singing would be included in a Lennon box set.
George Harrison (with Ringo Starr), "Ding Dong, Ding Dong" - No. 36 in 1974
The initial recording sessions for George Harrison's "Ding Dong, Ding Dong" took place in November 1973, a tumultuous time in his personal life as his marriage to Pattie Boyd was crumbling. The song, with its "ring out the old, ring in the new" lyrics evoked images of New Year's Eve. The Harrisons rang in 1974 at the Starkey household, awkward considering George Harrison had declared his love for Starr's wife, Maureen, just days before. Despite the behind-the-scenes turmoil, Starr still played drums on "Ding Dong, Ding Dong," which became a modest hit in 1974.
Ringo Starr (with John Lennon), "(It's All Down to) Goodnight Vienna" - No. 31 in 1975
John Lennon wrote this upbeat song during his Lost Weekend period, then handed it over to his old friend Ringo Starr to record. That's Lennon you hear at the beginning, counting in the band. He also played piano on the track, while frequent collaborators Klaus Voormann, Billy Preston and Jim Keltner were among the musicians who helped fill it out. Released as the third single from Goodnight Vienna, "(It's All Down to) Goodnight Vienna" peaked at No. 31.
George Harrison (with Paul McCartney and Ringo Starr), "All Those Years Ago" - No. 2 in 1981
"All Those Years Ago" could have been another in a growing list of Harrison-Starr collaborations. Harrison initially wrote an early version for the drummer, and Starr laid down tracks in November 1980. A month later, everything changed with the murder of John Lennon. Harrison revisited the song and completely changed the lyrics, stripping out Starr's earlier vocals and recording his voice in their place. Verses focused on Lennon's cultural impact, calls for peace and Beatles nostalgia. Starr's drum part remained, and Paul McCartney later added some backing vocals. The result was a song that featured the three remaining Beatles honoring their late friend.
Ringo Starr (with George Harrison), "Wrack My Brain" - No. 38 in 1981
Frustrated with his label's demands for pop hits, George Harrison wrote the song "Wrack My Brain" to blow off some steam. He opted not to record it but offered the song to Ringo Starr, who loved it. Harrison produced Starr's rendition while also providing guitar and backing vocals. It was included on Starr's 1981 LP Stop and Smell the Roses, his eighth solo album.
READ MORE: When Ringo Starr Quit the Beatles
Paul McCartney (with Ringo Starr), "Take It Away" - No. 10 in 1982
For his 1982 solo album, Tug of War, Paul McCartney enlisted an extensive list of collaborators, including Stevie Wonder, Moody Blues co-founder (and Wings member) Denny Laine and his old Beatles bandmate Ringo Starr. The drummer played on three tracks for the album, including the second single, "Take It Away." Starr's distinctive backbeat was integral to the tune's ebullient feel, giving it a breezy, upbeat quality that clicked with listeners.
Paul McCartney (with Ringo Starr), "So Bad" - No. 23 in 1983
Paul McCartney certainly knows his way around a ballad. And while the former Beatle can occasionally get cheesy, there's no denying he can play schmaltz to success. Such was the case with "So Bad," a simple sentimental love song from his 1983 album Pipes of Peace. Ringo Starr provided the backbeat on two songs from the No. 1 album. "So Bad" was released as a single in the States and peaked at No. 23, but overseas it was relegated to the B-side of the title track.
George Harrison (with Ringo Starr), "When We Was Fab" - No. 23 in 1988
George Harrison took a nostalgic look back at Beatlemania with this single from his 1987 album, Cloud Nine. Jeff Lynne co-wrote and co-produced the track, helping Harrison infuse elements like sitar, cello and backward-layered effects that recalled the Beatles psychedelic era. Ringo Starr drummed on the song and provided backing vocals. "When We Was Fab" marked Harrison's final Top 40 hit in the U.S., peaking at No. 23.
Beatles Albums Ranked
From the cheery 'Please Please Me' to the kinda dreary 'Let It Be,' we rank all of the group's studio LPs.