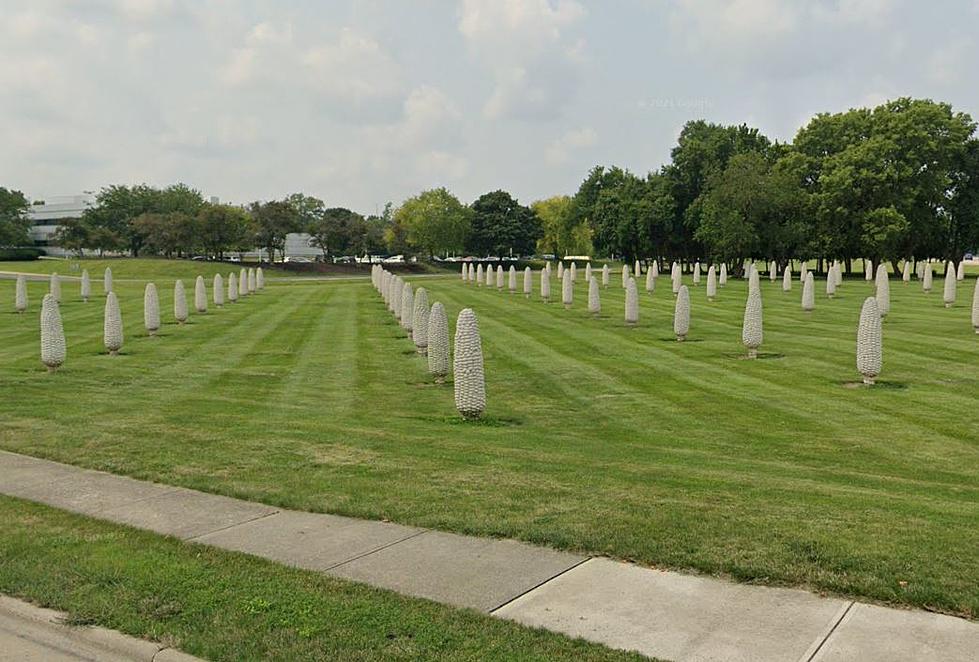 Have You Seen the Field of "People-Sized" Corn Statues in Ohio?
Via/ Google maps
Well, that's something you probably won't see every day.
In Dublin, Ohio, there's a field of corn that might catch your eye. No, this isn't corn you can eat. Instead, the field is filled with "people-sized" corn statues.
Why?
To that, I say...why not?
The art installation, if that's what you want to call it, certainly is unusual. But, it actually serves a purpose. It's a nod to Sam Frantz, the man who invented hybrid corn.
According to roadsideamerica.com, Frantz farmed this exact field, on the corner of Rings and Frantz Road, where the corn statues now sit. From 1938 to 1963, the field was used to test different hybrid strains of corn. Frantz even worked with the University of Ohio on the "hybridization" project to create seeds that would have better vitality and would, ultimately, produce a stronger crop yield.
Frantz would go on to donate the field which is now known as Sam and Eulalia Frantz Park.
About the Artist
The Field of Corn was created by Malcolm Cochran who has been creating large-scale sculptures since the 1970s, according to his website. He even worked for Ohio State University at one point.
He completed the Field of Corn in 1994 using three different molds. Each ear of corn, apparently, faces a different direction to give it a unique look. And, if looking at the field reminds you of a cemetery, you're correct.
He modeled the setup after the white tombstones seen at Arlington National Cemetery:
It was meant to,
symbolize "the death of agriculture" in the face of suburban sprawl.
But, are they actually "people-sized?" Looking at the Google Maps images, it can be hard to be sure. However, the passing Google car did capture a runner on the sidewalk next to the field, and, judging by this shot, the ears of corn are, indeed, the size of people:
While the installation was originally criticized for using tax-payers' money to create a field of inedible corn, locals seem to have warmed up to it over the last 2 decades.
Read more about the Field of Corn here.
Weird Sculptures Spotted From Michigan Roads
10 Stops For a Great Fall Colors Road Trip in Michigan
There's no doubt that Fall in Michigan brings us some gorgeous sights. If you're looking to hit the road for a Fall Colors tour, hopefully, this guide will help.