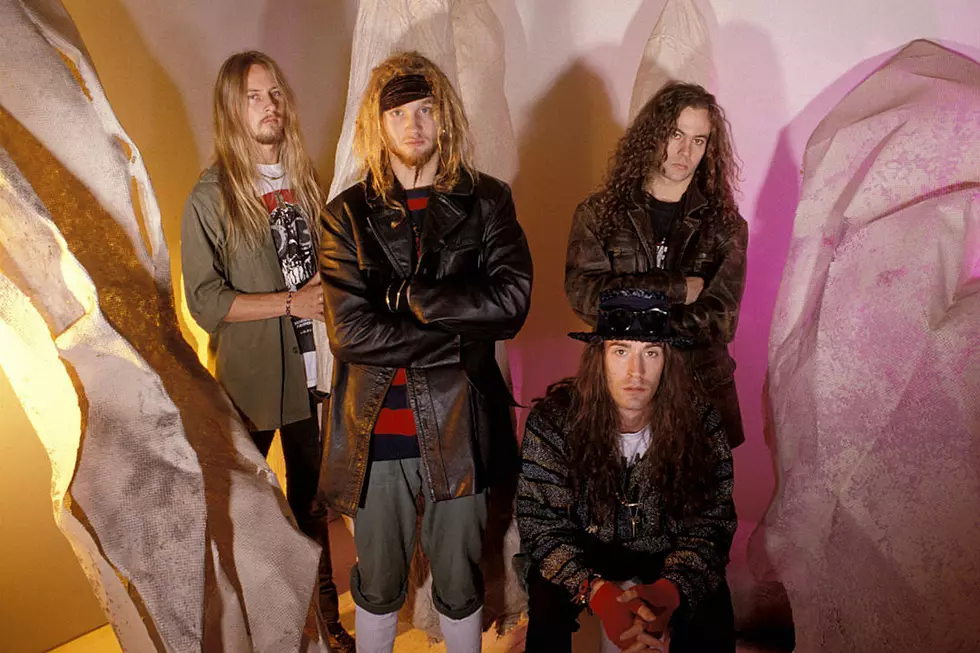 10 Facts You May Not Have Known About Alice in Chains' 'Facelift'
Ebet Roberts, Getty Images
In the late '80s, a storm began brewing in Seattle, Wash. A musical revolution was about to take place and change rock and roll for years to come. Associated with flannels, deep guitar tones and depression, "grunge" swallowed hair metal whole, gave it a dark spin and then spat it back out into the world.
This new subgenre of rock, which combined elements of punk and metal, took over around 1991 and 1992. But before there was Nevermind, before there was "Black Hole Sun," before the iconic festival Lollapalooza — there was Facelift.
Arguably one of the best debut albums in rock and metal history, Facelift was Alice in Chains' hard-hitting introduction to the world in 1990. Frontman Layne Staley sported vocals with the power of Freddie Mercury and the versatility of Axl Rose. Jerry Cantrell's drop D tuning saturated the songs with a dark aura to accompany his gloomy lyrics. Mike Starr and Sean Kinney provided a thunderous power that added to the heaviness.
No one knew what to call them. They weren't the rock and roll the rest of the world loved and knew, and they weren't exactly metal either.
Facelift was released on Aug. 20, 1990, and is 29 years old today. To celebrate the iconic debut album's anniversary, we've compiled 10 facts you may not have known about it.
1. It was the first successful "grunge" album.
Facelift was the first grunge album to break the top 50 of the Billboard 200, peaking at No. 42. It was also the first of its kind to be certified gold. Now, it has sold over two million copies.
2. The "Man in the Box" video helped it take off.
Facelift wasn't an immediate success - it had only sold 40,000 copies in the first few months of its release. Once MTV added the dark "Man in the Box" video to its daily rotation, the album sales cracked 400,000 within the following six weeks.
3. It's a Prince of Darkness favorite.
Ozzy Osbourne himself included Facelift as one of his top 10 favorite metal albums of all time. Referring to it as an "amazing debut," Osbourne told Rolling Stone, "'Man in the Box' is a classic. Layne Staley was a lovely guy. It's such a shame that he couldn't overcome his demons."
4. Sean Kinney played on it with a broken hand.
There isn't much more nightmarish than a musician breaking their hand right before heading into the studio, but Kinney did it. "I almost didn't play on the record," the drummer recalls in Grunge Is Dead: The Oral History of Seattle Rock Music. They recruited Greg Gilmore of Mother Love Bone to play the parts, but Kinney ended up playing anyway. "I cut my cast off in the studio and kept a bucket of ice by the drum set," he revealed.
5. Bon Jovi inspired an element of "Man in the Box."
The voice box famously heard in the Bon Jovi anthem "Livin' on a Prayer" is the reason Jerry Cantrell used a voice box in "Man in the Box." Producer Dave Jerden encouraged the use of the device, adding that it would make the song a hit.
6. The opening riff of "It Ain't Like That" was a joke.
Despite the cool sounding twang at the beginning of "It Ain't Like That," Cantrell later admitted that it wasn't intended. "That's based around a bend that was actually a joke," he told Guitar World in 2013. "I remember at rehearsal, I got pissed off about something and I made some noise...I was dicking around, and all the guys looked at me, like, 'That was cool! Do that again!'"
7. It was named after the photo chosen for the cover art.
According to David De Sola's biography Alice in Chains: The Untold Story, the band met with photographer Rocky Schenck a few months prior to the album's release. The shoot consisted of the band members emerging from the surface of a swimming pool with a piece of plastic covering their faces. They settled on an a photo of Mike Starr, and named the album Facelift because of the way his face was distorted.
8. "Killing Yourself" was only featured on vinyl.
One of the demos recorded during the recording sessions for Facelift was a song called "Killing Yourself." Though it was left off the final album, it was included as a B-side to the 1990 "We Die Young" single on vinyl.
9. It landed them an opening slot for a variety of bigger bands.
Once Facelift took off and Alice in Chains grew increasingly popular, they were invited to open for several tours. In 1991, they opened the U.S. leg of the Clash of the Titans tour, headlined by Slayer, Megadeth and Anthrax.
A new band from Seattle didn't exactly fit the trash giants bill, and the members of Alice felt the wrath of the crowds. Scott Ian recalled to Guitar World, "We'd stand onstage every night and just watch them get pelted with anything and everything those crowds could throw at them. And Layne would be jumping into the audience and punching people. But they never once walked off the stage."
The fledgling group were also offered a spot on Van Halen's For Unlawful Carnal Knowledge tour in 1991 by Sammy Hagar, who admits he was intimidated by their rapid success and relaxed demeanor.
10. It earned the band their first Grammy nomination.
"Man in the Box" was nominated for a "Best Hard Rock Performance" Grammy in 1992, but lost to Van Halen's For Unlawful Carnal Knowledge. 
The 30 Best Grunge Albums of All Time