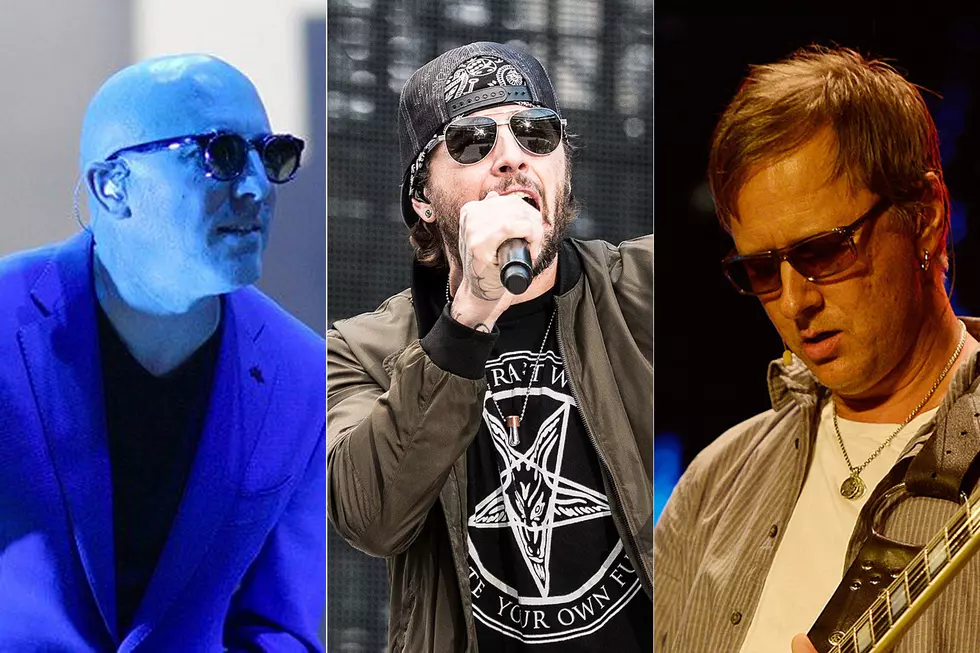 2018 Rock on the Range Set Times Revealed
Charles Epting / Kevin RC Wilson / Kevork Djansezian, Getty Images
It's the big one! Rock on the Range is fast approaching for 2018 and you likely want to make sure you max out your experience over the rock and metal filled weekend. To help you do so, the organizers for the event have revealed the set times for this year's festival.
The 12th Annual Rock on the Range takes place May 18-20 at MAPFRE Stadium in Columbus, Ohio with four stages to choose from each day. You'll have the nearly 60 bands performing on the Monster Energy Main Stage, the Zippo Encore Stage and the Bud Light Stage, while some top notch comedians will offer some variety to your experience letting the jokes fly in the Rolling Rock Comedy Tent.
Monster Energy Main Stage
9:30PM - Alice in Chains
8:00PM - A Perfect Circle
6:20PM - Breaking Benjamin
5:00PM - Machine Gun Kelly
3:40PM - Greta Van Fleet
2:25PM - 10 Years
1:15PM - The Bronx
7:15PM - Underoath
5:45PM - Quicksand
4:25PM - Hawthorne Heights
3:05PM - Turnstile
1:50PM - Senses Fail
12:45PM - The Fever 333
12:00PM - I See Stars
5:45PM - Body Count
4:25PM - Atreyu
3:05PM - Power Trip
1:50PM - Dance Gavin Dance
12:45PM - Mutoid Man
12:00PM - Spirit Animal
7:20PM - Trae Crowder
7:00PM - Tim Dillon
6:45PM - Jake Iannarino
6:30PM - Tom Dustin
6:15PM - Jay Armstrong
Monster Energy Main Stage
9:30PM - Avenged Sevenfold
8:00PM - Stone Sour
6:20PM - Three Days Grace
5:00PM - Bullet for My Valentine
3:40PM - Black Veil Brides
2:20PM - Asking Alexandria
1:10PM - New Years Day
7:15PM - Tech N9ne
5:45PM - Trivium
4:25PM - From Ashes to New
3:05PM - Stick to Your Guns
1:45PM - Jelly Roll
12:40PM - My Ticket Home
12:00PM - Like Moths to Flames
5:45PM - Andrew W.K.
4:25PM - Emmure
3:05PM - Miss May I
1:45PM - Wilson
12:00PM - Them Evils
7:20PM - JB Smoove
7:00PM - Yannis Pappas
6:45PM - Jason Banks
6:30PM - Bill Squire
6:15PM - Chad Zumock
Monster Energy Main Stage
9:20PM - Tool
7:40PM - Godsmack
6:05PM - Stone Temple Pilots
4:45PM - The Used
3:30PM - I Prevail
2:20PM - Red Sun Rising
1:10PM _ Tyler Bryant & the Shakedown
7:00PM - Babymetal
5:30PM - Baroness
4:10PM - Code Orange
2:55PM - Like a Storm
1:45PM - Shaman's Harvest
12:40PM - Shim
12:00PM - Stitched Up Heart
5:30PM - Yelawolf
4:10PM - Anti-Flag
2:55PM - We Came as Romans
1:45PM - Toothgrinder
12:40PM - Joyous Wolf
12:00PM - Pray for Sleep
6:50PM - Big Jay Oakerson
6:30PM - Taylor Tomlinson
6:15PM - Zach Martina
6:00PM - Aaron Kleiber
Weekend VIP and general admission tickets for this year's event are sold out, but a very limited number of single day general admission field and stadium tickets still remain at the Rock on the Range website. Head there for further information.
And while this schedule will no doubt help you in advance, you can also download the Rock on the Range mobile app for free on iTunes or Google play to have access to set times, site maps, photo frames and Rock on the Range social channels while you're at the concert, so go ahead and make all your preparations now.
2018 Rock + Metal Festival Guide