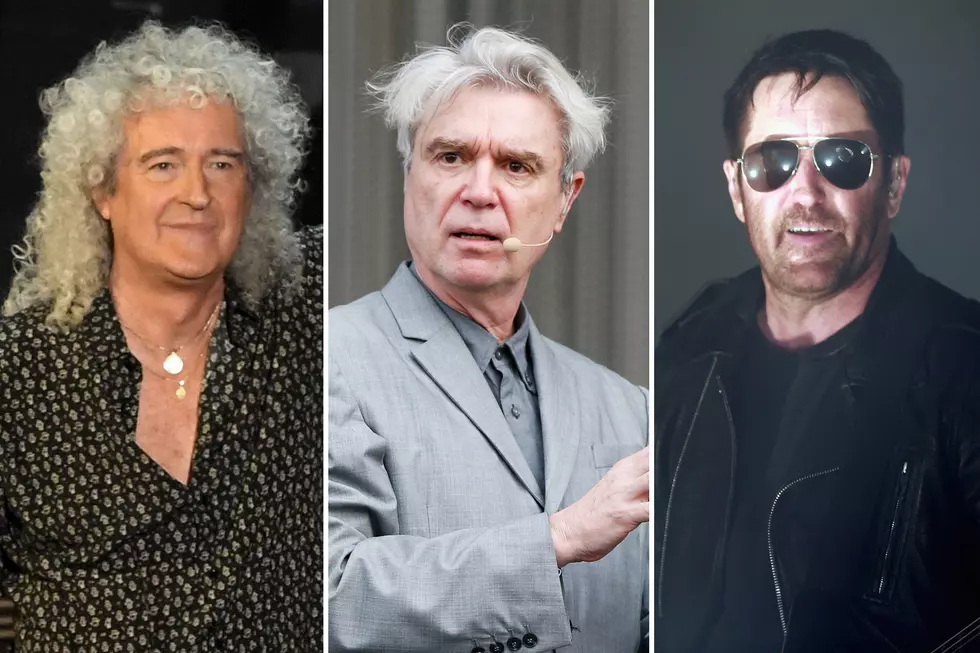 Brian May, David Byrne, Trent Reznor Named Among Rock Hall Induction Speakers
Kevin Winter / Alexandre Schneider / Rich Fury, Getty Images
Last month Def Leppard guitarist Vivian Campbell hinted that May had been selected to bestow the honor, saying: "It's a gentleman who's been a big fan of the band and a friend of the band for many, many decades," adding that he was "really smart."
Former One Direction singer Styles has a longstanding connection with Nicks' and Fleetwood Mac. He covered their classic track "The Chain" in 2017. After making a guest appearance at one of Styles' shows, Nicks said Mick Fleetwood treated the younger man like the son he'd never had, and added: "I believe in Harry Styles. … I think he has the world at his fingertips and he's going in the right way. And I'm really happy for him and I'm glad to be a part of that."
While Trent Reznor's Nine Inch Nails and Duran Duran have both been eligible for Rock Hall induction for some time, neither have achieved the honor. Reznor said he "honestly couldn't give less of a shit" when asked about his feelings last year, adding: "I'm not gonna sleep any better. Included or not. With that being said, it's always nice to feel you've been appreciated to some degree, but it's not on my list of things I have to achieve before I die."
Saxophonist Andy Mackay recently said that Roxy Music might perform during the ceremony at the Barclays Center in Brooklyn, N.Y. Their last show was in 2011. "We've been looking into how we're going to approach the actual induction, whether or not we're going to play," Mackay said. "I'm hopeful that we will."
Meanwhile, Radiohead frontman Thom Yorke says he had no intention of attending the event. "[W]e don't want to offend anyone. We just think that we just don't quite understand it," he explained. "I think our problem is essentially that every awards ceremony in the U.K. stinks. We grew up with the BRITs, which is like this sort of drunken car crash that you don't want to get involved with. So, yeah, we don't really know what to make of it."
2019's Biggest Rock Hall Snubs