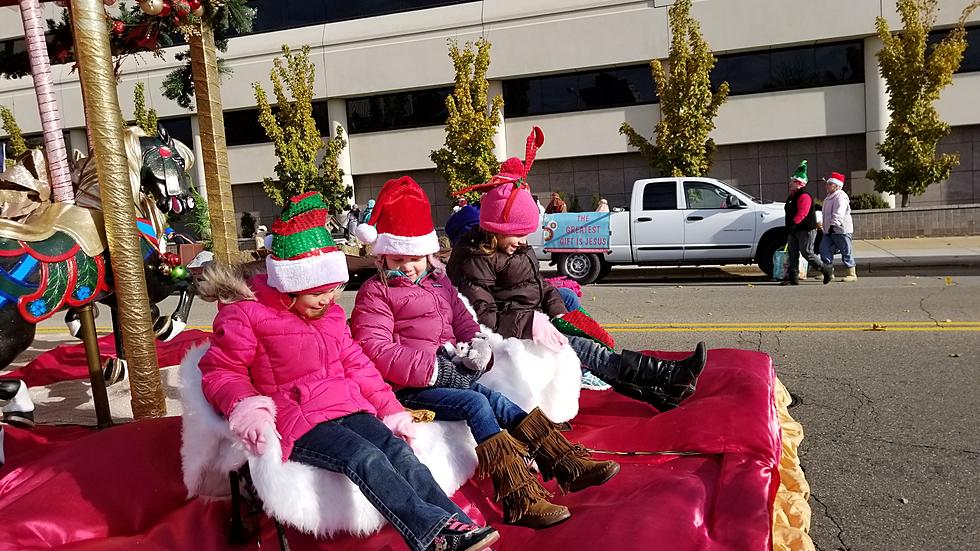 Christmas Season In Kalamazoo Begins Saturday With Parade
2017 Kalamazoo Holiday Parade (Dave Benson/TSM)
With Halloween and the elections in the rear view mirror, it's time to focus on the upcoming holidays. The annual Downtown Kalamazoo Holiday Parade is Saturday morning at 11am.
Organizers promise five balloon this year, weather permitting. But there is a change. Balloons will be cold air balloons, and not helium filled as they have been in past years.
A newly designed Santa, giant cold-air balloon is sponsored by Meijer; and Snickerdoodle the Reindeer, making his debut in the Kalamazoo Holiday Parade, is sponsored by Biggby Coffee. Consumers Energy is sponsoring a crowd favorite, the Thanksgiving Turkey.  Each balloon requires fifteen to twenty balloon wranglers. - Downtown Kalamazoo Partnership release
The parade expects some 90 entries, including the WMU Marching Band, along with high school bands from around the area.
Of course, the highlight of the parade will be the arrival of the Clauses, Santa and Missus.
Some other changes: The parade grand stand/announcers stage has been moved from Bronson Park to Michigan Ave at Kalamazoo Mall   A set of VIP bleachers will be located on the Kalamazoo Mall, on the north side of Michigan Avenue. Access to the VIP bleachers is being handled by parade sponsors.
A holiday post-party hosted by parade sponsor WOOD-TV, Ch. 8 at the downtown location will go on until 2:30pm.
The  Kalamazoo Valley Museum continues the tradition of offering After Parade fun! This year create hands-on Recycled Gifts in a workshop for the entire family from 12:00 p.m. to 4:00 p.m. No matter what holiday you celebrate, there will be lots of gifts to pick from to create your own handmade present. The Little Star That Could, at 1:00 p.m., sets off on a search to find planets of his own. -DKP release
The holiday parade route remains the same, (Lovell from Portage to Park, to Michigan, to Pitcher, back to Lovell ) but expect to see many street closures, due to construction and activities related to the holiday parade and events.