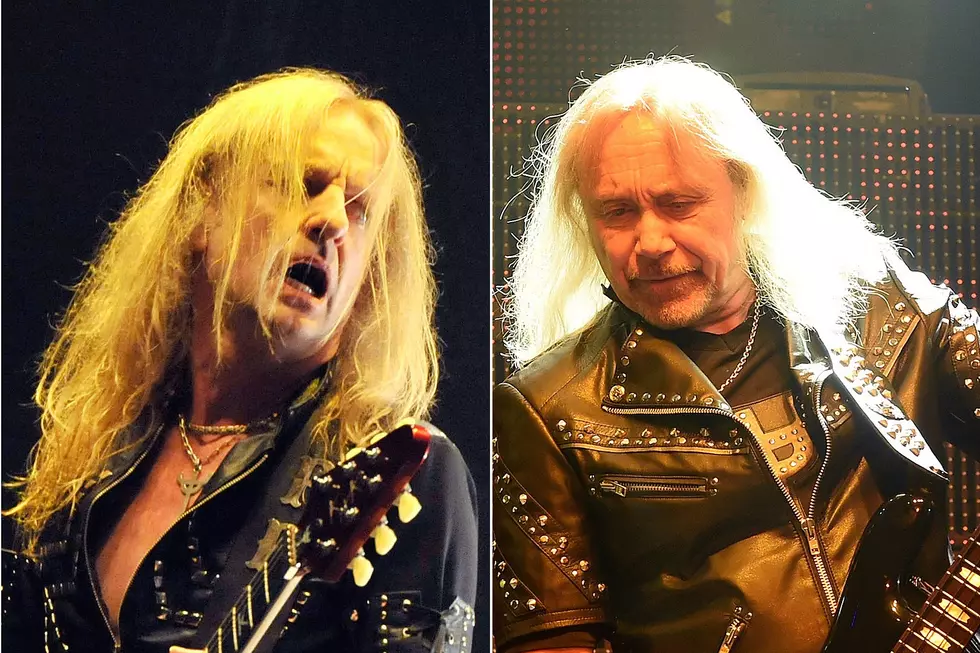 Ian Hill: 'There's No Plans to Have' K.K. Downing Back in Judas Priest
Kevin Winter,Ethan Miller/Getty Images
Judas Priest are one of the longest-standing metal bands who are still going as strong as they are. Of course, due to age and other conflicts, bands often see lineup changes when they carry on for several decades. This was the case with Ken 'K.K.' Downing, co-founder and former guitarist of Priest, who left the band in 2011. Bassist Ian Hill has commented on the possibility of Downing's return to Riff Magazine, stating "there's no plans to have Ken back."
Richie Faulkner stepped into Downing's role after his decision to leave the band. Hill speaks positively of Faulkner's assimilation into the band, and expressed his feelings on the possibility of Downing returning in the interview.
"It's a difficult call. I mean, Richie took over from Ken. He's done an absolutely tremendous job, he really has. And he's made Ken's parts his own now. He's got his own angle on the lead breaks. Ken's part's been taken, and there's no plans to have Ken back, really. Hey, listen, never say never. But at the moment, we're going along quite well without Ken, so it could stay like that. I think, at least for the foreseeable future," the bassist says.
In addition to Downing, guitarist Glenn Tipton chose to step away from touring with the band last year due to being diagnosed with Parkinson's disease. He now makes only the occasional appearance, with the band's producer, Andy Sneap, currently filling the void on tour. Following Tipton's departure, Downing expressed his willingness to return to the band during a press conference in 2018.
"If I had rejoined the band, obviously, I'd step into my role - that's where people would expect me to be - and Richie is already playing Glenn's stuff anyway, and we'd do that. It wasn't the case where I was gonna play Glenn's parts and Richie plays mine," Downing explains.
Hill did say "never say never," but with the way the members are going back and forth about the situation, it doesn't seem to be happening any time soon. Tipton, though will not be touring with the band. However, he is still assisting in writing material for the next album, and has been working on the riffs for it.
Judas Priest Albums Ranked