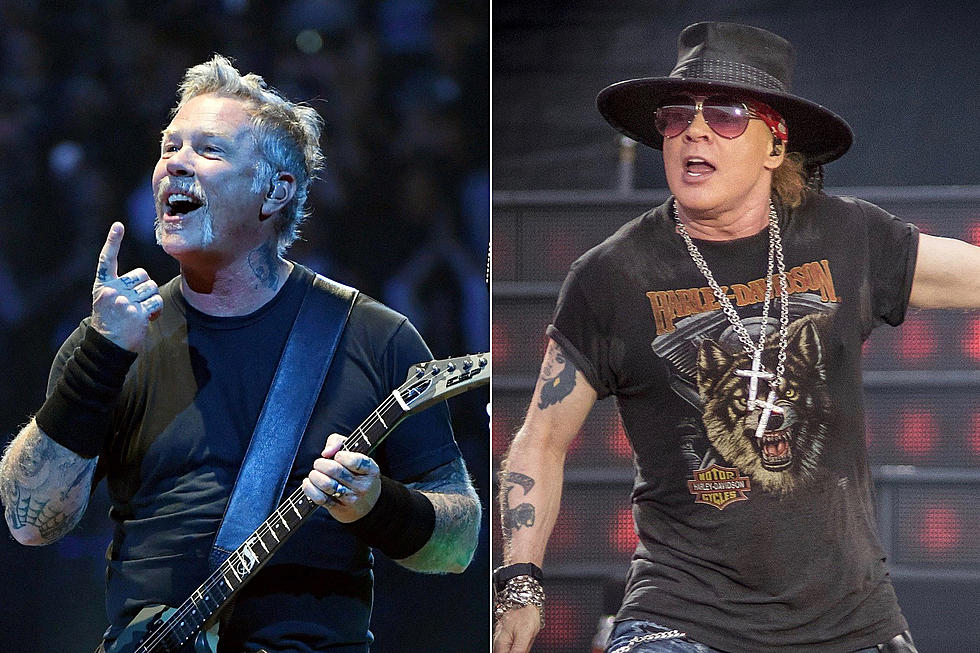 Metallica + Guns N' Roses Made Forbes Highest-Paid Celebrities List
Ethan Miller, Getty Images / Mark Horton, Getty Images
A lot of very popular bands go on world tours that last several years long. But does that make them one of the highest-paid in the world? For Metallica and Guns N' Roses, apparently so - they've made Forbes 2019 World's Highest-Paid Celebrities list.
Both bands failed to make the list in 2018, but they've redeemed themselves this time around. Guns N' Roses came in at No. 71 with $44 million in earnings and Metallica at No. 30 with $68.5 million. They share the list with celebrities from all other areas, including famous athletes, actors and even Kylie Jenner. We're not exactly sure what category she belongs in, but she secured the second spot on the list.
Metallica were recently deemed one of the top earning touring artists for the November 2018 to May 2019 period by Pollstar, along with KISS and Disturbed. GN'R didn't make the list, most likely because they only played a handful of shows at the end of 2018. Their "Not in This Lifetime" tour is currently thought to be the second highest-grossing tour of all time, reeling in around $563 million.
Metallica are touring Europe right now with Ghost as part of their "WorldWired" tour - get tickets here. Guns N' Roses first performance of 2019 is this fall at Louder Than Life festival, followed by another brief U.S. leg.
The 50 Best Metal + Hard Rock Live Bands of All Time