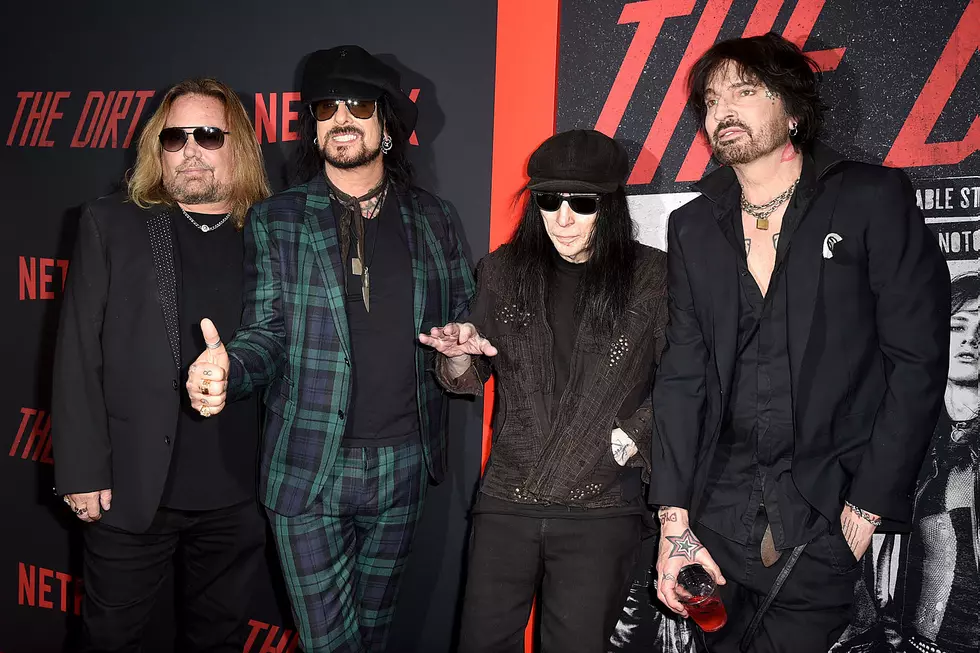 Motley Crue's 'The Dirt' One of the Top Audience-Rated Films of 2019
Kevin Winter, Getty Images
Yeah, another Motley Crue story. But honestly, with the year they've had, it's hard to ignore  some of the feats the band have racked up over the last few months. Their Netflix biopic The Dirt, which came out in March, is one of the top audience-rated films on Rotten Tomatoes, according to Blabbermouth.
While the film only received a 39 percent rating by 70 movie critics, the audience score is currently a whopping 95 percent based on 6,533 user reviews. This is a higher rating than both Rocketman and Bohemian Rhapsody, which were two other enormous music biopics that came out this year.
The Dirt also was given a higher audience score than Netflix's Martin Scorsese-directed The Irishman, starring film legends Robert De Niro, Al Pacino and Joe Pesci; Toy Story 4; Joker and Avengers Endgame. Clearly, casual viewers were much more pleased with Crue's movie than critics were.
Thanks to the movie's popularity, the hair metal group received a 350 percent increase in streaming of their music, and a massive spike in Google searches, making them one of the Top 10 trending searches in Google's "Musicians and Bands" category in 2019.
The high demand for Motley Crue to return led to exactly that, when they announced a 2020 stadium tour with Def Leppard, Poison and Joan Jett and the Blackhearts. "Little did we know that making The Dirt movie would lead us to this exciting new place touring stadiums with our friends in Def Leppard," bassist Nikki Sixx said in a statement. "We are beyond excited for this tour to begin."
25 Actors Who Transformed Into Real-life Rockstars for Movies