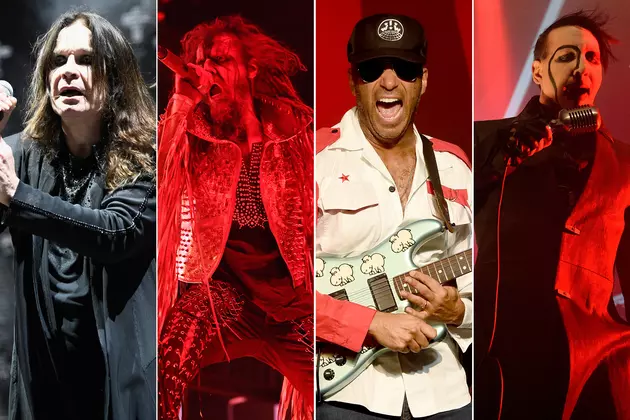 Ozzy Osbourne, Rob Zombie, Prophets of Rage + Marilyn Manson Lead 2017 Ozzfest Meets Knotfest Lineup
Frazer Harrison / Jason Davis / Kevin Winter / Daniel Boczarski, Getty Images
One of the premiere concert events of 2016 was the melding of Ozzfest and Knotfest in San Bernardino, Calif. last fall. Things went so well, the two festivals will do it all over again this fall, with the lineup for the music weekend just announced.
The Ozzfest lineup on Saturday, Nov. 4 finds Deftones, Children of Bodom, Kreator, Orange Goblin, Baroness, High on Fire, Possessed, Iron Reagan, 1349, Suffocation, Havok, Kyng, Tombs, Night Demon, Thrown Into Exile, Fallujah and Rings of Saturn all joining Ozzy and Prophets of Rage.
The Knotfest portion on Sunday, Nov. 5 has Eighteen Visions, Prayers, Testament, Life of Agony, the Black Dahlia Murder, Upon a Burning Body, Goatwhore, Death Angel, Code Orange, Oni, Stitched Up Heart, ded, Repulsion, Exhumed, Warbringer and Ghoul joining the aforementioned Manson, Zombie and Stone Sour.
"Last year's show with Black Sabbath was just incredible and I'm thrilled to be coming back this year with Zakk, Tommy, Blasko and Adam to headline the 21st anniversary of Ozzfest," stated Ozzy Osbourne. Sharon Osbourne added, "Ozzfest Meets Knotfest is coming back for another round.  Last year we had over 75,000 people attend and we have another great lineup this year with Ozzy's first solo show in L.A. in more than six years.  This is not just another show...it's Ozzfest Meets Knotfest!  And this year's event means the world to me as we'll be amongst friends like Prophets of Rage, Rob Zombie, Deftones, Marilyn Manson and Stone Sour...it's going to be another amazing weekend."
Slipknot's Shawn "Clown" Crahan states, "It's that incredible time again where Ozzfest and Knotfest meet up to bring all music fans together for two days of Rock and Roll.  Let's not forget the beautiful culture we are involved in and the history that is being written. Join the true passion of our concepts. I'll see you there. Stay (sic)." Corey Taylor adds, "Knotfest was never supposed to be exclusively about Slipknot. It was always about the things that fueled the spirit of Slipknot: music, art, passion, insanity, and the tribes that give it power. So it would make sense for Knotfest to carry on these ideas, even without Slipknot. Because these things are the gasoline of creativity, and there's plenty to go around, with plenty of great bands, acts and things to see. Teaming up again with Ozzfest means another weekend of the biggest, baddest, loudest and best. I hope you all will join us; it's going to be (sic)."
Though Slipknot are not performing this year, members of the band are expected to be on hand taking part in meet-and-greet packages. Tickets for this year's Ozzfest Meets Knotfest go on sale Friday, July 14 at 10AM PT and you can check out the festival website here for additional details on packages as well as camping opportunities.
Ozzfest Meets Knotfest 2017
2017 Guide to Rock + Metal Festivals
10 Unforgettable Ozzy Osbourne Moments