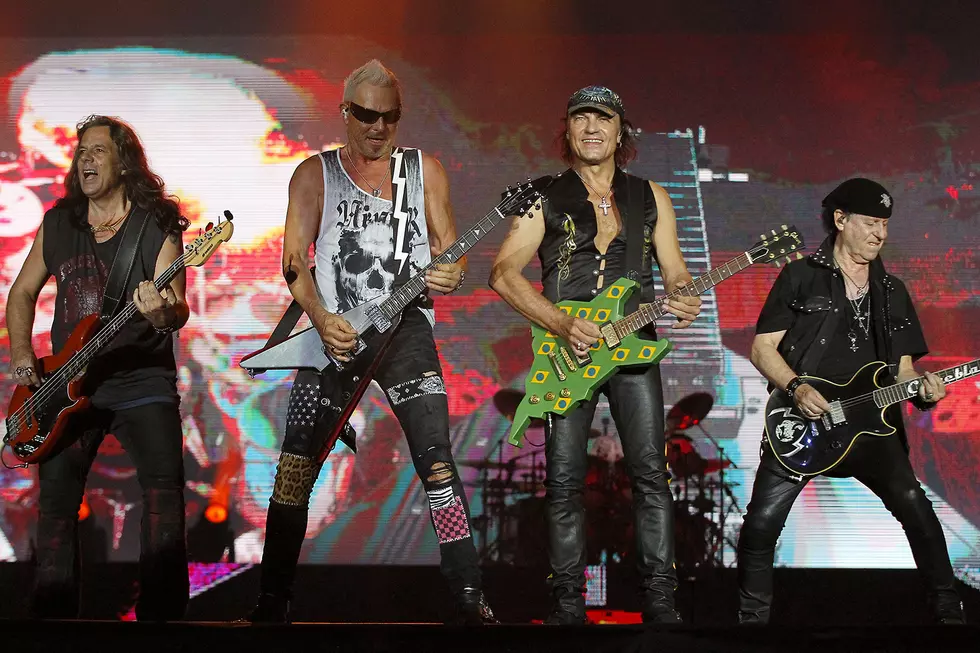 Scorpions Aim for New Album in Fall 2020
Wagner Meier, Getty Images
Scorpions guitarist Matthias Jabs said the band was working on what will be its 19th album, with hopes to release it in fall 2020.
It will be the first time former Motorhead drummer Mikkey Dee contributes to a Scorpions studio record. Its release will follow a Las Vegas residency the band has planned for July.
"We've been writing some material before we went on tour this summer," Jabs told The Metal Bar (via Blabbermouth). "So we have songs – about 10, I guess – but we will have to do some more writing once this tour is over, and then prepare for the rehearsals and recordings right after our shows in New Zealand and a couple in Asia."
He noted they'll be working with producer Greg Fidelman, who's resume includes Metallica and Slipknot. "The plan is to record until the first of July, where we have a residency in Las Vegas for a whole month," he added. "And then, during that time, we can either do the final touch-ups or mix. And then the album should come out in the fall of 2020. And then, of course, we go on the road again."
Jabs said Scorpions' songwriting process has changed over the years. "In the early days, I took the guitar and came up with some great riffs and was excited about that," he explained. "Today, almost every riff has been played already by myself and by others. … So the approach is slightly different — it's more about the song and the melody and even the lyrics, sometimes, they could be the inspiration.
"The riff and all the guitar work, you do that later on. Not always, but it's not the main source for songwriting anymore, as it used to be in the beginning, when we were so excited. 'Oh, listen to this new riff. It's great. Let's turn it into a song.' It's a little bit the other way around now."
The band previously played a five-night residency in Las Vegas in 2016. Their announced tour plans include appearances in Australia, New Zealand, Indonesia and Singapore in February and March.
Scorpions Lineup Changes: A Complete Guide