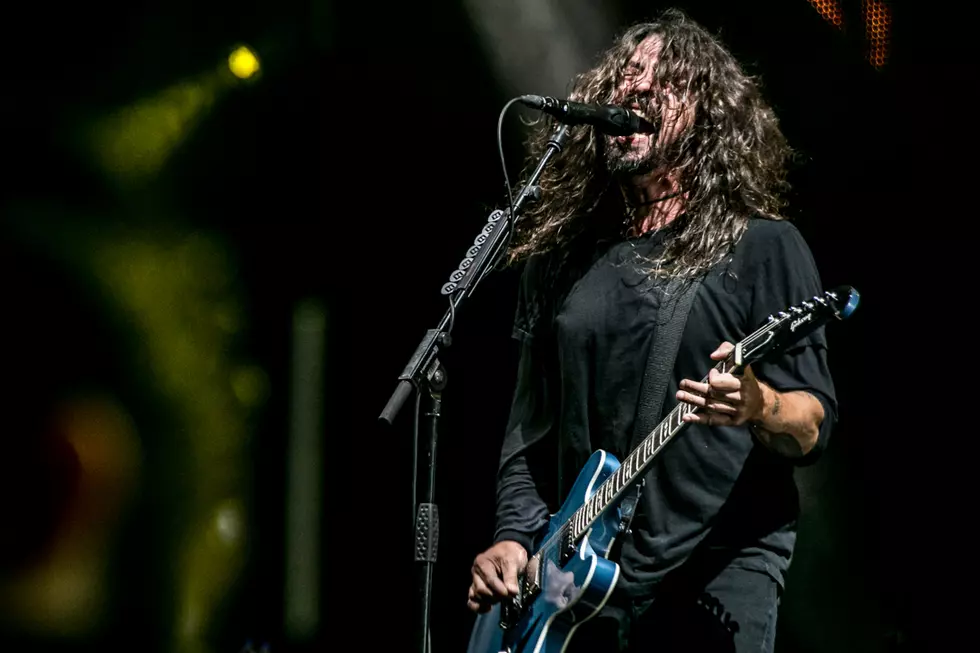 Foo Fighters' Dave Grohl Falls From Stage in Las Vegas
Kathy Flynn, WickedGoddessPhotography.com
Oh no! Not again. Don't sweat it, Foo Fighters fans, Dave Grohl appears to be fine after taking a tumble off a concert stage in Las Vegas.
Grohl and his Foo bandmates performed at the Hard Rock Hotel and Casino Wednesday (Jan. 9), with the singer-guitarist making his way out to the corner of the stage to rock some riffs and pose for photos for those out to the side of the audience.
As can be seen in the Instagram video below, Grohl seemed to be having some fun with the audience stepping down to the crowd, accepting a Bud Light beer from an audience member, placing it on top of a speaker and attempting unsuccessfully to drink it hands free while jamming. When the beer spilled, he quickly snagged it and chugged it down before returning to the stage, but he didn't exactly make a clean step. Grohl lost his balance and fell backwards, but luckily there were security members there to help break his fall a bit. Grohl quickly regained his footing, then made the stage on his second attempt. Watch it play out below.
Grohl famously broke his leg in 2015 falling off a stage in Sweden, then had some fun with a Swedish crowd at the same venue in 2018 sending out a stunt double to take a tumble off the stage at the beginning of the band's set. Grohl also narrowly avoided another stage mishap in Florida last year, briefly stumbling over a speaker but managing to brace himself before taking a tumble to the ground below.
Foo Fighters will next appear at the I Am the Highway tribute to the late Chris Cornell taking place at the Forum in Los Angeles on Jan. 16. They've also got a Super Saturday performance in Atlanta for DIRECTV coming up in early February and two shows helping to open the new Fillmore venue in New Orleans in mid-February. See all of the band's scheduled dates here.
Top 50 Hard Rock + Metal Live Acts of All-Time