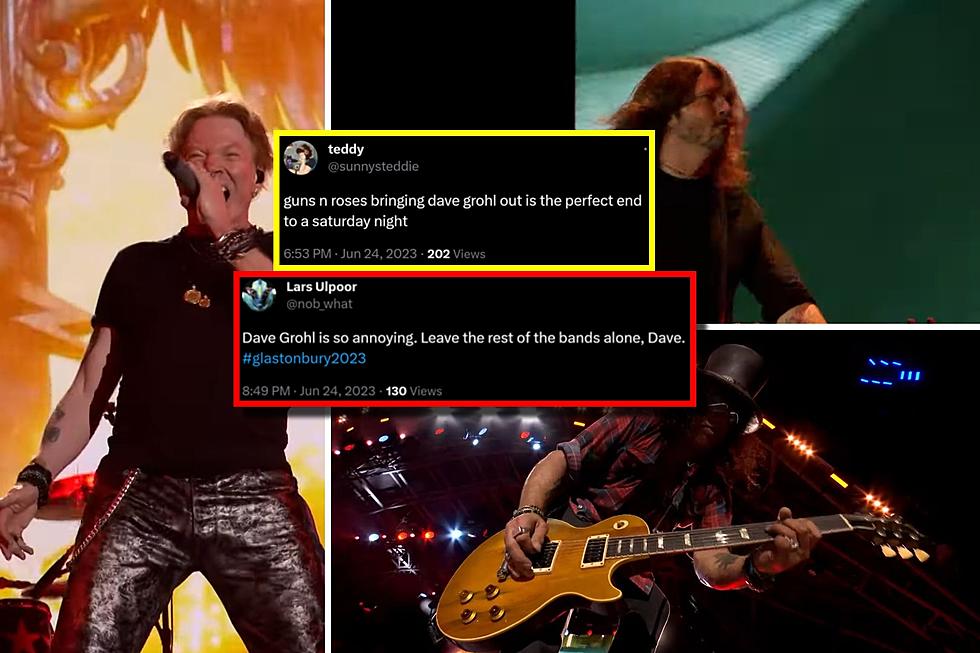 Dave Grohl Joins Guns N' Roses' Polarizing Glastonbury Set + Fans Have Mixed Reactions
YouTube: BBC Music / Twitter: @sunnysteddie / Twitter: @nob_what
Last night (June 24), Guns N' Roses played a lengthy headlining set – on the main Pyramid stage – during the penultimate night of this year's Glastonbury Festival (much to the chagrin of Oasis guitarist Noel Gallagher). While their first-ever performance at the event was full of interesting moments, it's the surprise contribution of Foo Fighters frontman Dave Grohl at the very end that truly delighted many viewers.
After representing their entire catalog by pulling out several GN'R staples (including "Welcome to the Jungle," "November Rain," "Sweet Child O' Mine" and "You Could Be Mine") – as well as covers of Wings' "Live and Let Die," Velvet Revolver's "Slither" and The Stooges' "T.V. Eye" – the group decided to close with perhaps their most popular track, "Paradise City."
Suddenly, Grohl – who'd been surprising concertgoers throughout the festival – came onstage to help. As he walked out, singer Axl Rose declared: "We're gonna bring out a friend. We'd like to bring out Mr. Dave Grohl because there's never such a thing as too many guitars. There's no such fucking thing! Last song people. We love you! Thank you for having us!"
READ MORE: New Photo of Axl Rose + Slash in Studio Surfaces Online + Fans Are Freaking Out
Interestingly, Grohl's appearance was largely seen as a highlight of the otherwise divisive show.
Primarily, Rose's vocals were criticized, with one Twitter user concluding that he "sound[ed] a bit like when your dad fired up the home karaoke set in the garden during lockdown." Elsewhere, however, people defended him, as another fan tweeted: "I thought  #GunsNRoses were great, #axlrose was never gonna hit every note every time he's 61 FFS." Meanwhile, Slash's guitarwork seemed universally adored, with one person clarifying that "what cannot be denied is that #Slash is an amazing guitar player & that alone was with the entrance fee."
As for the finale with Grohl, well, most spectators have been singing his praises since last night.
In particular, someone reflected: "guns n roses bringing dave grohl out is the perfect end to a saturday night." Elsewhere, another fan rejoiced, "#glastonbury2023 Dave Grohl , Slash and Axl Rose doing Paradise City … I can die happy now." In contrast, though, someone else tweeted: "Dave Grohl is so annoying. Leave the rest of the bands alone, Dave. #glastonbury2023."
Obviously, their collaboration is but the latest in a long line of exciting news regarding both artists.
As alluded to above, a new photo of Rose and Slash in a Norwegian studio appeared online last week, leading to more speculation regarding possible new GN'R music. Prior to that, someone created an AI version of Rose singing Velvet Revolver's "Fall to Pieces," and the Always Sunny podcast recently included Rose in their discussion of the greatest rock singers of all time.
As for Grohl and Foo Fighters, they were joined by Paramore singer Hayley Williams for a special take on "My Hero" at Bonnaroo 2023 on June 18. Of course, Foo Fighters (billed as The Churnups) also played their own unexpected set at Glastonbury this past Friday (June 23).
You can view more reactions to Dave Grohl and Guns N' Roses playing "Paradise City" below, as well as see clips of the performance.
Fans React to Dave Grohl Playing "Paradise City" with GN'R at Glastonbury 2023
Dave Grohl Plays "Paradise City" with Guns N' Roses at Glastonbury Festival (June 24, 2023)
Every Guns N' Roses Song Ranked
All of Guns N' Roses' songs ranked.