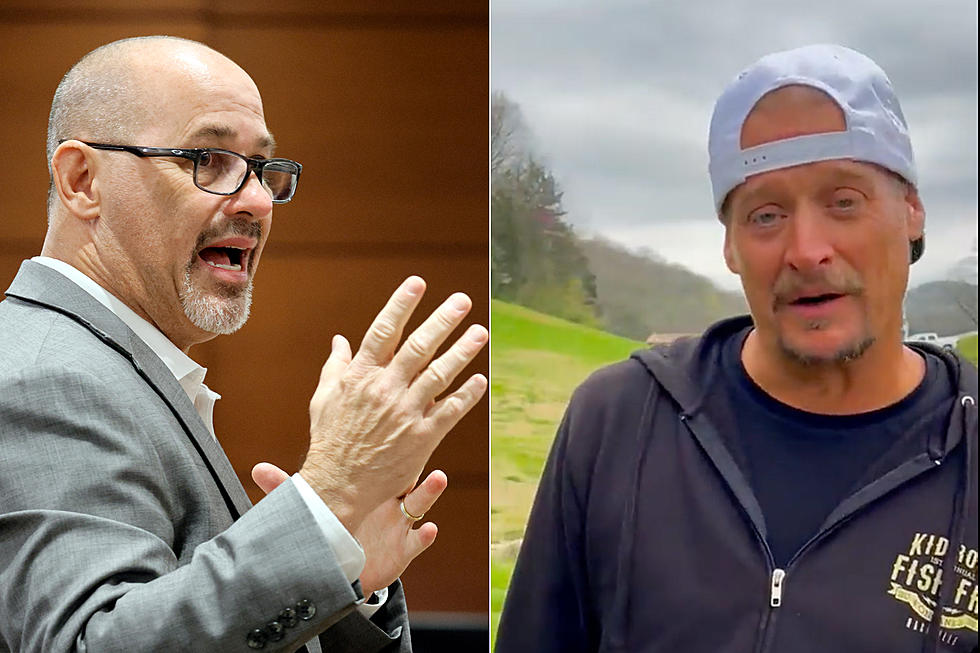 Father of Parkland School Shooting Victim Responds to Kid Rock
Amy Beth Bennett - Pool, Getty Images / Twitter: Kid Rock
Fred Guttenberg, father of a Parkland school shooting victim, has responded to Kid Rock's outlandish video in which he shoots at three cases of Bud Light beer in an angered reaction to the brand's partnering with a trans activist.
Rock's response was lampooned by countless people on the internet, many dubbing the musician a snowflake for his triggered response to something that does not align with his own personal viewpoints. Curiously, he felt the need to lash out against the trans community despite authoring a song titled "Don't Tell Me How to Live" in 2021.
The actions taken in his video establish dangerous and violent rhetoric with the trans community currently under heavy attack politically and criminally.
In December of last year, Scientific American published a report demonstrating how anti-LGBTQ+ rhetoric fuels violence and that, as of 2020, "around one out of every five hate crimes committed in the U.S. were motivated by anti-LGBTQ+ bias, according to the U.S. Department of Justice."
Guttenberg, one of the country's most prominent activists against gun violence, lost his daughter Jaime on Feb. 14, 2018, when 19-year-old Victor Cruz killed 17 people at Marjory Stoneman Douglas High School in Parkland, Florida. It remains the deadliest school shooting in U.S history.
READ MORE: 28 LGBTQIA+ Icons in Rock + Metal
Enraged by Kid Rock's anti-trans video where he opened fire upon three cases of Bud Light, Guttenberg called the musician out on Twitter.
"Hey Kid Rock, this dad is 'feeling a little frisky today,'" he writes, referencing Rock's opening line in the video where he says, "Grandpa is feeling a little frisky today."
Continuing to quote certain elements of what Rock said, Guttenberg adds, "Let me be 'as clear and concise' as I can with you. This is my daughter Jaime (under the black oval) and these are the students running over her for safety to avoid getting shot by the AR 15 that killed her. FUCK YOU!!!"
Guttenberg attached a still image from surveillance video of the Parkland shooting, showing students fleeing the scene and making their way down the stairs.
What are some statistics on gun violence in schools in the United States?
In an extensive report by The Washington Post, the news outlet noted that the federal government does not track school shootings, which prompted their own tracking of this epidemic.
The database indicates that 377 school shootings have taken place in the United States since the Columbine High massacre in 1999 and that over 349,000 students have experienced gun violence at school since that tragedy.
Statistics also indicate that the median age of a school shooter is just 16 years old (109 shooters whose ages are unknown were not factored into this statistic).
Can we stop this from happening?
For nearly 25 years, countless solutions have been proposed by all political parties.
Democrats tend to favor enacting tighter gun control laws, including more thorough background checks and adding certain weapons to an already existing list of guns U.S. citizens are not able to purchase.
Meanwhile, pro-gun Republicans are inclined to deny gun control propositions and efforts on their behalf have failed to thwart the rise of school shootings with record highs established in 2021 and 2022 — more than 40 incidents of gun violence in U.S. schools in each of those years.
One continuous idea floated by Republicans is to actually increase the presence of guns inside schools and place them in the hands of teachers. This effort is gaining traction in Tennessee after a deadly school shooting in Nashville in late March — the 13th school shooting in the U.S. this year alone.
28 LGBTQIA+ Icons in Rock + Metal