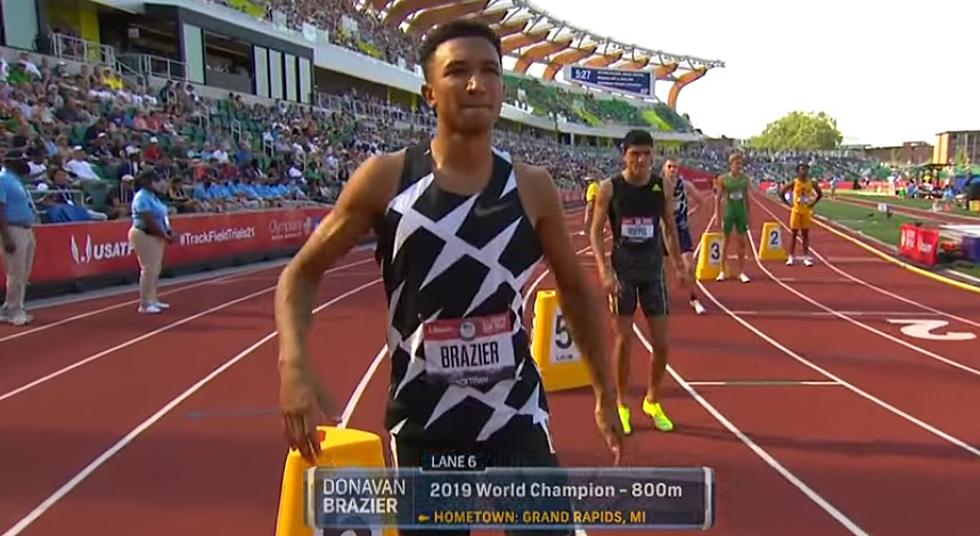 Grand Rapids Native Donavan Brazier Fails To Make Olympic Team
NBC News via YouTube
It was in his own words 'a (crappy) race', as Donavan Brazier failed in his quest to make the Tokyo Olympics in the men's 800 meter race.
USC's Isaiah Jewett pushed the pace, causing Brazier to try and play catch up and ultimately he ran out of gas down the stretch, as he faded to finish eighth in the 800 meter final at the US Track and Field Olympic Trials Monday night in Eugene, OR.
Brazier, rated one of the top 800 meter runners in the world heading into the final, admitted he didn't like the way the race played out, but offered no excuses, telling a post race interviewer 'There are things champions overcome and I couldn't overcome them.'
Brazier ran his high school track at Kenowa Hills High School.
When asked if there's anything he could take away from this experience, he said: 'I can't take away anything from this experience. I ran pretty (expletive).'
Defending Olympic bronze medalist Clayton Murphy won the race, followed by Jewett, who's strategy to push the pace paid off handsomely, as he made his first Olympic team. The third and final spot on the team went to Bryce Hoppel from Texas.
An obviously disappointed Brazier hinted at some personal struggles in his post race interview, but refused to use those as an excuse for his performance.
'I'm sad. I'm very sad,' Brazier said when reflecting on the race. 'There were just some people who were better than me today."
Brazier, who was also scheduled to run in the 1500 meter race at the trials, told viewers he 'probably' skip that race, which is not a race he's strong in. It also led some insiders to believe he might be nursing a minor injury.
When asked if he was healthy, he admitted there are some things that were bugging him, but there was 'nothing that I can make excuses for for this race.'
I love his honesty. I really felt bad for him while watching this interview. But Brazier remains confident. 'I'll come back from this, I've been down worse before.'
CHECK IT OUT: 100 sports records and the stories behind them