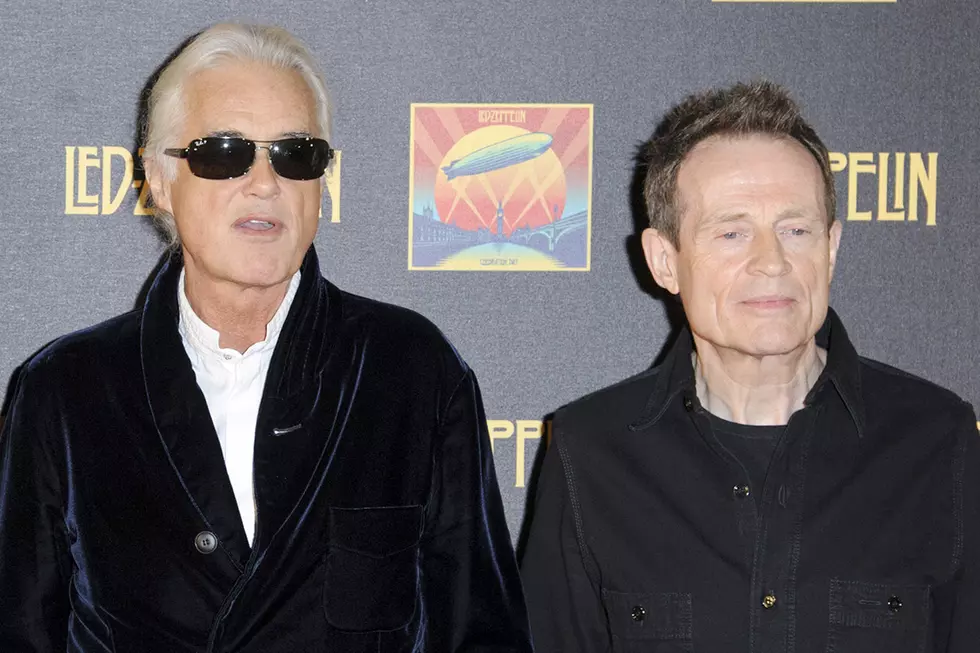 Could Jimmy Page Have Been a Member of Them Crooked Vultures?
Ben Pruchnie, Getty Images
The guitarist said that, the last time he'd spoken to Foo Fighters leader Grohl, there had been the suggestion of Page being involved in some form of musical project too.
The discussion took place after Led Zeppelin's apparently final reunion in 2007, when Robert Plant had moved on and the rest of the band explored the idea of creating their own music.
"During the post-O2 period, I had been playing new material with Jason Bonham and John Paul Jones at rehearsal rooms," Page wrote on his Facebook page. "I was asked to play with the Foo Fighters at Wembley. This was after the Led Zeppelin show at the O2 attended by Dave Grohl. So, on this day in 2008, John Paul Jones and I played 'Ramble On' and Dave sang with Taylor Hawkins on drums. Then Taylor swapped drums with Dave and he sang 'Rock and Roll'."
He continued: "Dave Grohl said 'You guys should come to the States and record with us.' I didn't hear anything more from Grohl, and John Paul Jones' communications seemed to dim. The next I heard, they were promoting their new group."
Them Crooked Vultures, which featured Queens of the Stone Age leader Josh Homme alongside Jones and Grohl, released a self-titled album and two singles in 2009, winning a Grammy for "New Fang." They delivered a number of live shows before going on hiatus the following year.
Page's apparent bemusement carries echoes of the band's induction into the Rock & Roll Hall of Fame in 1995, after Jones had seemingly not been told about Page and Plant's reunion the previous year. During his acceptance speech Jones said to his former colleagues: "Thank you, my friends, for finally remembering my phone number."
In 2015, drummer Bonham recalled the tension between Page and Jones during rehearsals for the 2007 show, saying: "[W]e were doing a part, and Jimmy — Mr. Page — was counting it as guitar cycles. He'd do it and say, 'That's 16 guitar cycles. That's right, isn't it, John?' and John goes, 'Whatever.' He goes, 'No, no — John, we're right, aren't we?' and John goes, 'We've never been right. What's the point of continuing now? You do it your way, and I'll do it the correct way!'"
The Best Song From Every Led Zeppelin Album