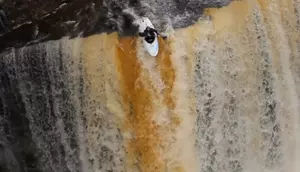 Multiple People Have Gone Over Michigan's Tahquamenon Falls, Is it Legal?
StoryTrender via YouTube
Earlier today, I was scrolling through social media when I stumbled on a video on the "MICHIGAN HISTORY PAST, PRESENT AND FUTURE" Facebook group of someone going over the iconic falls of Michigan's Upper Peninsula, Tahquamenon Falls.
CLICK HERE to view the video.
First I wondered, "did they do that on purpose?"
Then, as I was scrolling through the comments and they posed another question, "Is this legal?" There were then further questions about what kind of fines could be imposed for doing this.
Now, let's find some answers to these here questions.
How Many People Have Kayaked Over Tahquamenon Falls?
So, in my research, I found it hard to find an actual number of people who have successfully either paddled or jumped from the falls. However, we did find plenty of stories and videos!
A more recent kayaker there is video proof of him going over the falls is Marcelo Galizio, who successfully made the drop in the winter of 2018 (but had also done it 18 times before). His story is key to some questions that will be answered later.
See Related: Kayaking Over Tahquamenon Falls is Exhilarating and Terrifying 
There's also video of another kayaker doing it in 2014:
A deer made headlines when it also made the drop down the falls and lived to tell the tale:
Now, we are absolutely stunned to find out that people have even done this, and possibly more we don't have video of!
Is This Legal?
So, of course, the question that remains is, did these people get fined for going over the falls?
Well, turns out, it is not illegal, but is definitely not encouraged.
According to Roadtrippers, given the falls' massive size, you are not allowed to jump from the falls (or at least strongly discouraged).
However, there are the "lower falls" which are "a series of five smaller falls cascading around an island which can be reached by rowboat."
They say these falls are located four miles downstream and visitors do play in the waters of the lower falls in the summer months.
Now let's get back to Marcelo Galizio, the guy in the video from 2018.
Apparently, he told MLive he had been kayaking for 10 years up to that point and said that he does take extra precautions each time he had gone or goes over the falls.
Those precautions include having a team of people nearby who have a plan if something goes awry but, more notably, he also notifies the DNR and is met with a pleasant response.
However, once the video of Galizio started gaining some traction, MLive reports the DNR did put out a statement that read: "We discourage people from attempting, but it is not illegal to go over the waterfall. The people who do this are professionals with their own safety teams and years of practice."
So There You Have It, It Is Legal
I know, I know, that's pretty sick, right?
But don't let your daredevil side get the best of you. Like the DNR says, these people are professionals who know what they are doing.
If just anyone went out there all willy-nilly, it definitely may not have the same outcome. We could go further into how many people have lost their lives at the falls but let's end this adventure on a fun note.
While Tahquamenon Falls is a state park, it is also "the 2nd Most Voluminous Waterfall in the Eastern US," according to the Sault Ste. Marie website. Here's a look at some other wonderful national landmarks and parks:
RANKED: Here are the most popular national parks
To determine the most popular national parks in the United States, 
Stacker
 compiled data from the 
National Park Service
 on the number of recreational visits each site had in 2020. Keep reading to discover the 50 most popular national parks in the United States, in reverse order from #50 to #1. And be sure to check with individuals parks before you visit to find out about ongoing, pandemic-related safety precautions at 
www.nps.gov/coronavirus
.