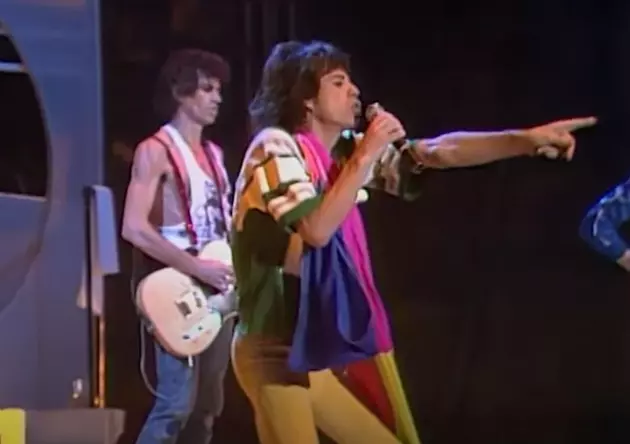 Live in Concert: The Rolling Stones 1981 American Tour
HD Schuster via YouTube
A perennial live favorite, we've got Mick, Keith and company from the Stones' 1981 tour headlining this week's Live in Concert on RKR.
It was a historic show, and not just because it was the World's Greatest Rock & Roll Band. The Rolling Stones concert on December 18, 1981 was the first live music event to be broadcast on television via pay-per-view. Billed as "The World's Greatest Rock'n'Roll Party," it was also shown in movie theaters and broadcast on the radio around the world. We've got an encore performance Saturday night at 8 on Live in Concert.
The Rolling Stones were old pros and road warriors by 1981, perfecting their craft since the 1960s. More than 14,000 fans turned up on a cold December night in 1981 at the Hampton Coliseum in Hampton Virginia to see Mick strut his stuff and Keith riff amidst a haze of cigarette smoke while Ronnie, Bill and Charlie added to the magic that is the Rolling Stones live. This tour, in support of the Tattoo You album, was  largest grossing tour of 1981 with $50 million in ticket sales. Your ticket is free when you listen in on 107.7.
George Thorogood was the opening act for the Rolling Stones at this concert, so we'll feature a couple of his signature songs. (Hint: Be sure you are prepared with one bourbon, one scotch and one beer.) We'll feature The Cars from their early days with a show from 1978 and latter-day REO Speedwagon with "Take It On the Run" and "Roll with the Changes" from 2010.
We're inching closer to love concerts but they may be further off than we had hoped. We're brining you legendary live shows from the vaults every week on Live in Concert, every Saturday night at 8 on Kalamazoo's Rock Station.
26 Classic Rock + Metal T-Shirts Everyone Has Owned at Some Point