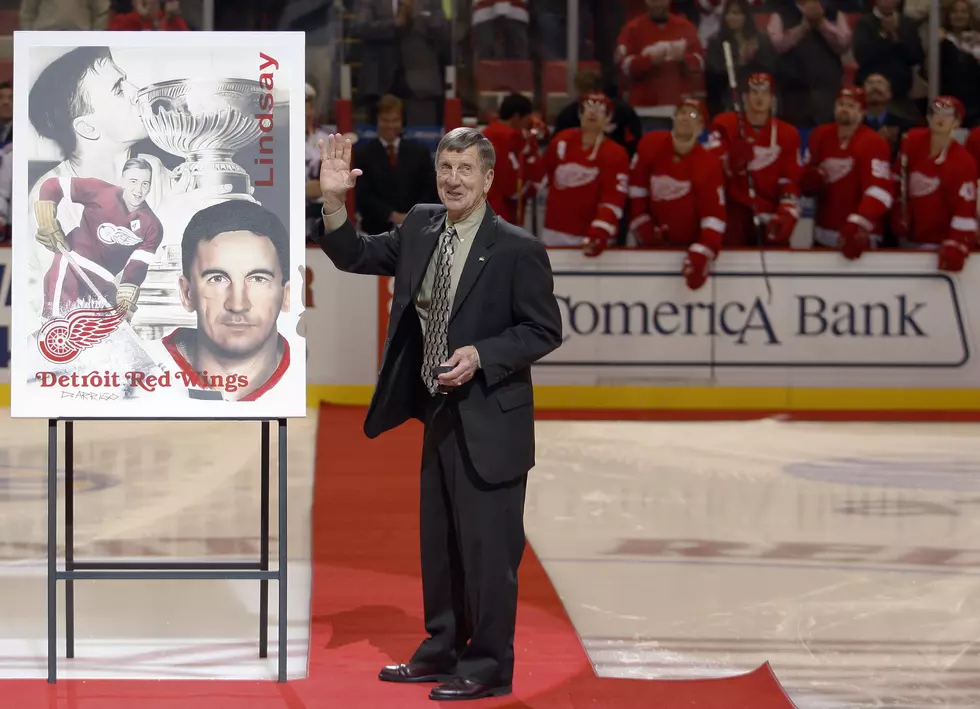 Red Wings Hall of Famer Ted Lindsay Dies at 93 – 'Giant, A Titan'
Detroit Red Wings legend Ted Lindsay waves to the crowd prior to start of game between the Detroit Red Wings and the New York Rangers on October 18, 2008 at the Joe Louis Arena in Detroit, Michigan. The Red Wings defeated the Rangers 5-4 in overtime. (Photo by Claus Andersen/Getty Images)
"If hockey ever needs one face to say "this is our game," it's Ted Lindsay." - hockey historian Dave Stubbs, nhl.com
We lost a giant today. An absolute titan. - Pierre LeBrun, The Athletic, TSN
Detroit Red Wing legend Ted LIndsay, who won four Stanley Cup rings with the team, died in his sleep this morning. He was 93.
Known as "Terrible Ted' for his ferocity on the ice, Lindsay won the Art Ross Trophy in 1950 as the top scorer in the NHL, played in the NHL All-Star Game 11 consecutive times, was selected to the NHL First All-Star Team eight times, and finished among the League's top three in goals four times and points six times. - NHL.com
His nicknames was "Terrrible Ted" for how he ferociously he played the game. But he will also be remember for being one of the founders of the NHL players' union in the late 1950's, which got him his captaincy stripped and traded out of Detroit by angry Red Wing management. After spending three seasons in Chicago and retiring, Lindsay came back four years later and finished his famed career with the Red Wings.
Where does the Hockey Hall of Famer rank? In 2017, during the NHL's Centennial celebration he was named one of the 100 best players. And, they re-named a trophy after him, for the best player as voted by players.
Not only did LIndsay have a stellar career, and help improve working conditions for his fellow players, but he did two other very significant things.
He is credited with creating the "Stanley Cup skate", where the players skate with The Cup after winning fame. He started that in 1950 when the Wings won The Cup.
"I took it over and had it so people could see the names on the Cup. I went around the ice. I didn't think I was starting a tradition. I was just taking care of the people that paid my salary. The next year the captain that got it, raised it and went around with it. And they said Ted Lindsay started that tradition. I'm honored to have my name with it." - nhl.com
Here's is another great story into the character of Ted Lindsay. Lindsay refused to attend his own Hall of Fame induction ceremony, because at that time it was a male-only stag affair. "(Players) are wonderful people when we're winning, but when we go home and we're losing, we're miserable for our wives and our children. My feeling was, families put up with us when we were temperamental idiots, they should be able to enjoys the benefits of what the league is giving us. That's a very simple decision."