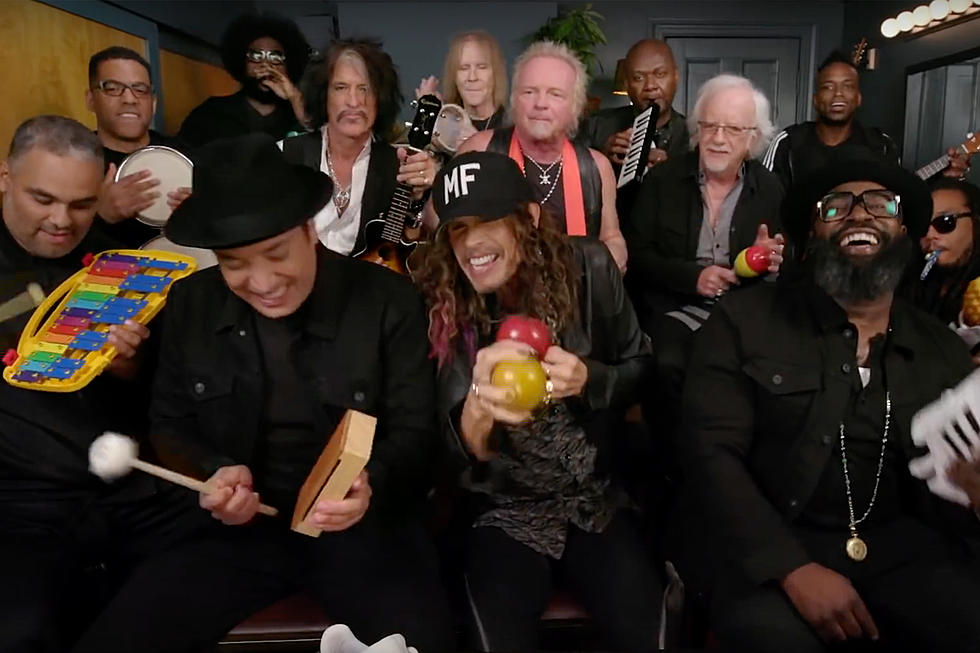 Watch Aerosmith, Jimmy Fallon + The Roots Perform 'Walk This Way' on Classroom Instruments
YouTube: The Tonight Show Starring Jimmy Fallon
There have been covers of Aerosmith's "Walk This Way" over the years, but the latest features a massive collective that includes the Boston icons playing alongside Tonight Show host Jimmy Fallon and The Roots, his house band. The catch? All involved are utilizing classroom instruments to pull off the performance.
Like previous editions of this Tonight Show bit, the band, The Roots and Fallon all cram into a small room, making sure to all get into camera view as they break out wooden blocks, a toy xylophone, toms, a melodica, shakers, kazoos and other unique instrumentation to replicate the edgy, swagger-filled licks and catchy beats of the original song.
The thing that's closest to the original is Steven Tyler's raspy, attitude-filled delivery of the song, though the sheer amount of instrumentation around him threatens to drown him out a bit. Still, Tyler is clearly having a good time rocking along to what's going on around him. Watch the clip from The Tonight Show in the player above.
Aerosmith's members have largely pursued outside projects in 2018, but the gang will be back together onstage for an extensive Las Vegas residency next year. The run begins April 6 at the Park Theatre at Park MGM, with ticketing and VIP package opportunities available here.
Top 50 Hard Rock + Metal Live Acts of All Time
Aerosmith's Original Tour Van Found