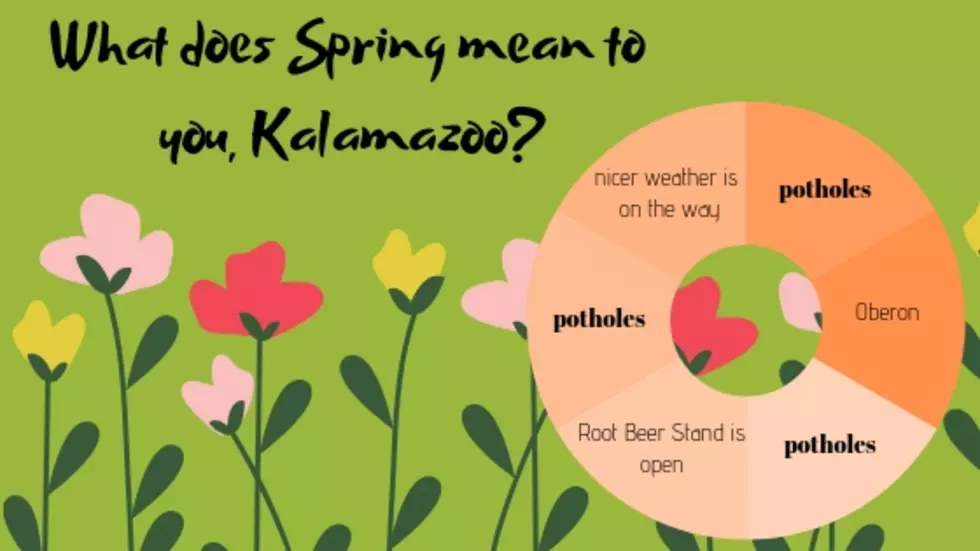 What Does Spring Mean To You, Kalamazoo?
Warmer weather, potholes, seasonal businesses opening, potholes, flowers blooming, pothole and potholes mean Spring is here in Kalamazoo.
The Kalamazoo Now & Then Facebook group recently asked its members the question, "What does Spring in Kalamazoo County mean to you?" The answers focused on potholes, warmer weather, potholes, outdoor activity, potholes and potholes.
Here are some of the comments from the groups discussion:
Potholes. 

😠

☹️

ice disappearing on the lakes
flowers popping up and trees budding
Potholes the size of Gull Lake
Mushrooms!
Root Beer Stand and Oberon
potholes
Winter is over!!!
Multitasking--coughing and sneezing while dodging potholes.
kayaking
Potholes Birds chirping Potholes Lilacs Potholes
Did I mention Potholes 

⁉️
Members also mentioned mud, melting snow and blooming flowers as things that they think of every Spring in Kalamazoo as we look forward to the (ever) changing seasons in Michigan.