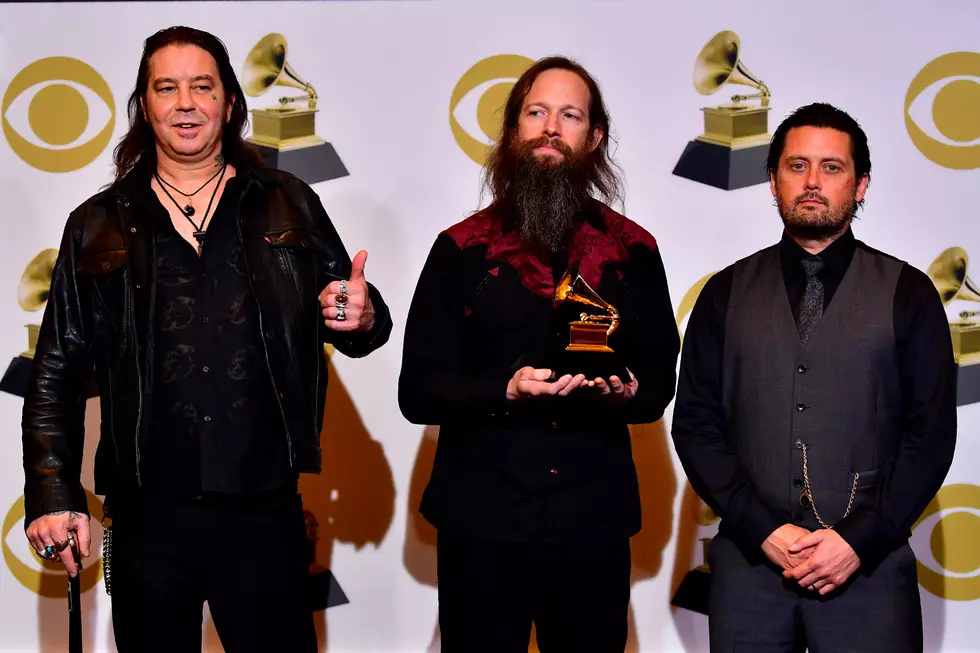 Greta Van Fleet, Sting, Chris Cornell, High on Fire Win Grammys
High on Fire - Frederic Brown, Getty Images
Greta Van Fleet can now add "Grammy winners" to their ever-increasing list of accolades.
The young foursome took home the Album of the Year award during this afternoon's Grammy Awards Premiere Ceremony, for their debut full-length From the Fires. They prevailed in a category that also included Alice in Chains, Fall Out Boy, Ghost and Weezer.
The late Chris Cornell won in the Best Rock Performance category - over Greta Van Fleet, Arctic Monkeys, The Fever 333 and Halestorm - for his posthumously released song "When Bad Does Good."
Cornell's children accepted the award, with his son Christopher declaring "I never thought we'd be standing here without my dad. I'm sure he would be proud and honored."
High on Fire were victorious in the Best Metal Performance category, with their "Electric Messiah" triumphing over Between the Buried and Me (for "Condemned to the Gallows"), Deafheaven ("Honeycomb"), Trivium ("Betrayer") and Underoath ("On My Teeth").
"Wow, what a trip," said guitarist and singer Matt Pike as the band received their award. "We never really needed an award for doing what we love. Twenty-one years later, thank you to the Academy."
Sting and Shaggy won in the Best Reggae Album category for their recent collaboration "44/876," overcoming fellow nominees Black Uhuru, Etana, Ziggy Marley and Protoje.
Greta Van Fleet were also passed over - this time, in favor of St. Vincent's "Masseducation" - in the Best Rock Song category. The other nominated artists in that field were Twenty One Pilots, Bring Me the Horizon, and Ghost.
Greta Van Fleet also came up short in the Best New Artist category, which was their fourth and final nomination of the evening. Dua Lipa was the victor, in a field that also included Luke Combs, Bebe Rexha, Jorja Smith, Chloe x Halle, H.E.R. and Margo Price.
Several other classic rock artists were nominated for awards in a diverse range of categories - but spoiler alert, they didn't win. Here's our full recap:
BEST BOXED OR LIMITED EDITION PACKAGE
The "Locked N' Loaded" box set edition of Guns N' Roses' Appetite for Destruction lost out to "Weird Al" Yankovic's Squeeze Box: The Complete Works of "Weird Al" Yankovic in the Best Boxed or Limited Edition Package category.
BEST MUSICAL THEATER ALBUM
The Eric Clapton documentary Life in 12 Bars was passed over in the Best Music Film category, with that award going instead to the self-titled documentary about legendary music and film producer Quincy Jones.
BEST ALTERNATIVE MUSIC ALBUM
Talking Heads star David Bryne's American Utopia was nominated for Best Alternative Music Album, but the award went to Beck's Colors instead.
BEST FOLK ALBUM
BEST CONTEMPORARY BLUES ALBUM
The Punch Brothers' All Ashore won the Best Folk Album Grammy, which means that Joan Baez' Whistle Down the Wind did not. Similarly, Boz Scaggs' Out of the Blues was overcome in the Best Contemporary Blues Album category by Buddy Guy's The Blues Is Alive and Well.
BEST AMERICANA ROOTS SONG
BEST AMERICANA ALBUM
Even though he was nominated for two different songs, John Prine was defeated in the Best Americana Roots Song category by Brandi Carlile's "The Joke." Her album By the Way, I Forgive You also defeated his The Tree of Forgiveness in the Best Americana Album category. Hopefully, he can forgive her.
Bob Dylan's Trouble No More: The Bootleg Series Vol. 13 / 1979-1981 (Deluxe Edition) lost in the Best Album Notes category to Voices of Mississippi: Artists and Musicians Documented by William Ferris.
BEST CONTEMPORARY INSTRUMENTAL ALBUM
Former Toto drummer Simon Phillips' Protocol 4 album lost to the Steve Gadd Band's self-titled effort in the Best Contemporary Instrumental Album category.
We will be updating this post throughout the night.
33 Artists Who Surprisingly Have Never Won a Grammy