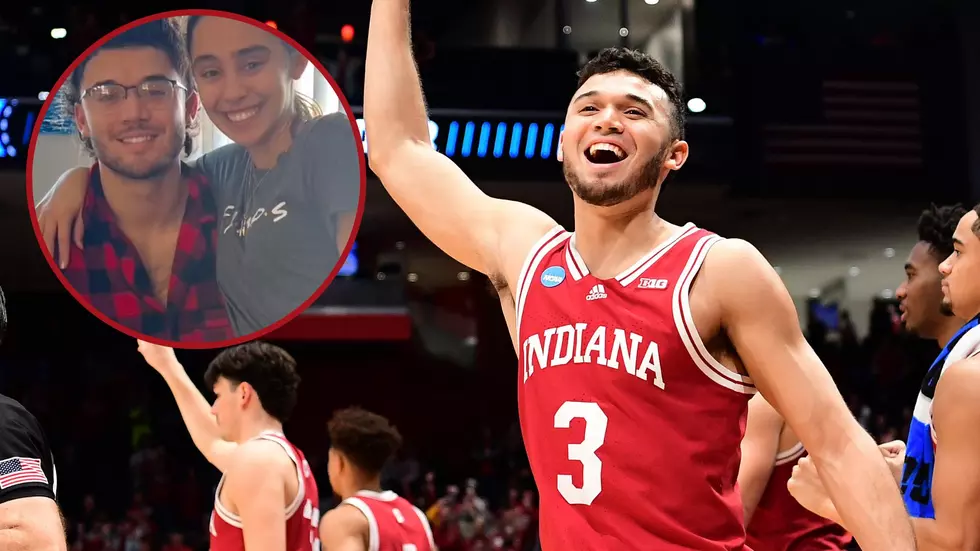 University of Indiana Player Uses NIL Money To Pay Off Sister's Student Loans
Getty Images/Twitter @anthonyl3al
There's been a lot of crazy stories of players doing amazing (and strange) things with their NIL money in the NCAA. Michigan Running Back Blake Corum spent part of his money buying Thanksgiving dinners for people in Michigan. CJ Stroud, at Ohio State, spent some of his NIL money to buy suits for his entire team to wear on game days.
Obviously, most of the stories about what the money is spent on don't make headlines, but another heartfelt one just popped up in the Big 10 from Indiana.
Anthony Leal is a big deal at IU this season. A 6'5" guard from Bloomington, he was named Mr. Basketball in 2020, has a VERY high ceiling, and a humble spirit (off the court of course) that was recently showcased in a video from Christmas with his family this year.
In the video, originally posted to Twitter by user @btownl3alfam1 (I'm assuming one of their parents given the "Top 5 Parenting Moment" title to the tweet), the daughter Lauren, Anthony's big sister, walks through the front door with a letter, addressed to her from her younger brother.
In part, the letter reads...
"You know how much I look up to you, and admire who you are. Your soul is beautiful, and you're the best role model ever. There's not doubt I have made it to where I am today because of you. Someone like you deserves no burdens, or restrictions in life, and I feel like the best way to help you with that is by..."
And at that moment, Lauren stops reading, in shock, and looks over at "little bro" in disbelief.
"I don't even know how much that is!"
To which "little bro" Anthony has the best reply...
"I do.... it's zero now."
She finally finishes reading the card...
"... the best way to help you with that is by paying off your student loan debt. Love, little bro 'Ant.'"
Anthony then retweeted the video with the best response possible to anyone who has issues with the NIL process.
"Some folks have negative opinions about NIL. But without it, things like this wouldn't be possible..."
Damn right they wouldn't. Props to the parents for raising a couple of great kids, and shouts out to Anthony for the great character. You're gonna fit in GREAT in the NBA soon enough.
Merry Christmas Leal Family!
Big Tree Farms in Santa Claus, Indiana