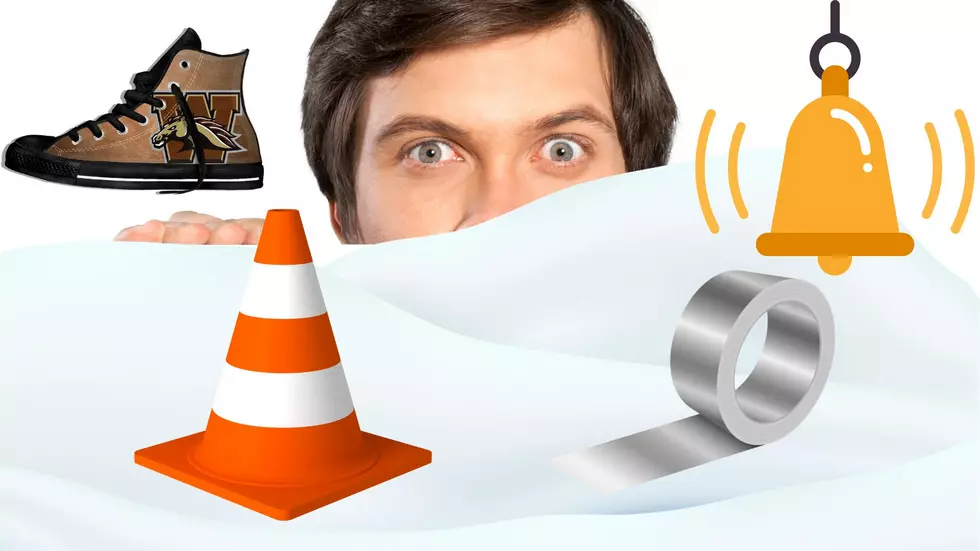 Four Oddly Specific Halloween Costumes For Southwest Michigan
Canva
It's spooky season, so hopefully, you're all set with your Halloween Costume this year. BUT, if you aren't, there are some options.
In fact, I can list you off some ODDLY-specific costumes guaranteed to make you stand out in southwest Michigan.
WMU Ultimate Fan
This one's super easy (especially if you're an older person). Stop by your local Meijer, or one of the WMU shops, and pick up EVERYTHING Western to wear. Hat, hoodie, sweatpants, socks, shoes, sunglasses, gloves... everything!
This costume works even better if you've never been there, weren't a student, and until recently, didn't know where Western Michigan University was... (this might, lowkey, be my costume this year.)
Construction Cones
This works for anyone in all body types because construction cones are made in all shapes and sizes. If you're super skinny, then you'll go as one of the "stick" cones. Barrel-chested, the big round ones. Standard cone-shaped bodies are rare, but they do exist.
Flaunt your unique body shape! Go buy neon orange sweats at Walmart and some reflective tape. Four stripes of reflective tape around your body, striped up that orange sweatsuit... BOOM, you look like you could be sitting still on the side of the road on Stadium Drive.
Bell's/Eccentric Cafe
Every year, Bell's has its "Come as you Aren't" celebration. This might be a good warm-up for that one.
You could go the traditional route. Break out the Christmas decorations early, and dangle every bell you own on your body. Then, hang a few empty Two-Hearted Ale, Oberon, and Hopslam Ale cans on you as well.
If you want to add the "Eccentric Cafe" part to the ensemble, hang a few chicken wings on there as well. You may look like the craziest Christmas Tree ever, but it will certainly be "eccentric."
Lake Effect Snow
Kalamazoo, and this whole section of southwest Michigan still benefit from lake effect snow off of Lake Michigan in the winter. Snow totals here tend to inch a little higher than in other parts of the lower peninsula.
How can you make a costume out of snow, though, if it'll just melt?
Put on a beanie, then get a white turtleneck, sweatpants, and gloves. COVER those articles of clothing densely with cotton balls, white stuffing, etc.
You can approach this one of two ways, too. 1. Pick a "line" on the shirt to cap the snow and carry a ruler with you to measure the snow, or; 2. Roll the turtle neck up over your mouth, and bring the "snow" right up to your nose.
Have you got any fun, easy costumes specific to Southwest Michigan you could make for Halloween this year?
13 Unmistakable Michigan Things to Dress as for Halloween 2022
Check out 13 unmistakable, Michigan-based costumes to get your creative juices flowing.