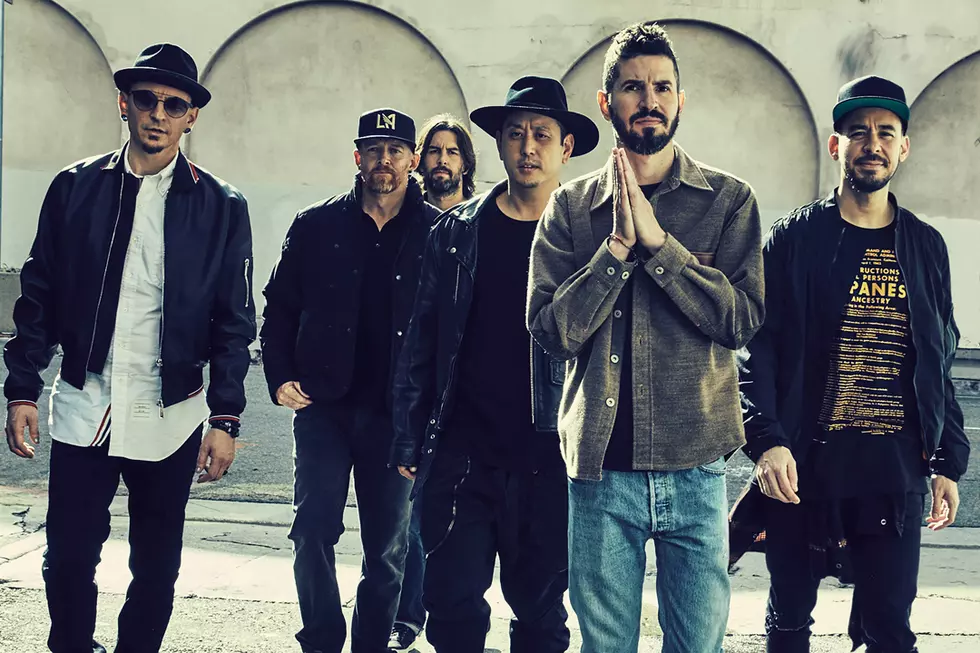 Linkin Park Reveal Streaming Plans for Chester Bennington Memorial Show
Photo by James Minchin
It will likely be a night conjuring up a wide array of emotions for fans viewing and the musicians participating, as the members of Linkin Park will return to the stage for the first time since Chester Bennington's death. Tickets for the special Linkin Park & Friends show were scooped up fast, but for those who won't be riding the benches and boxes at the Hollywood Bowl, you'll still have a chance to catch the show.
That's because the band's one-night-only show will be streamed live free of charge to fans on Friday, Oct. 27 starting at 7:45PM PT via Linkin Park's YouTube channel. The "friends" in the Linkin Park & Friends Celebrate Life in Honor of Chester Bennington title refer to the special guests appearing at the show. They include the members of Blink-182, Linkin Park's planned tour partner Machine Gun Kelly, Korn frontman Jonathan Davis, Linkin Park duet partner Kiiara, EDM favorite Zedd, plus members of Avenged Sevenfold, System of a Down, No Doubt, Yellowcard and even more surprises.
As you can see, there is quite the talent pool lined up to support their brethren in Linkin Park and it's a sign of the love and respect that many held for Bennington in the music industry. With a lineup like that, there's no doubt this will be one of the concert events of the year while also serving as a fitting tribute allowing the band a chance to share with their fans a celebration of Bennington's life and music.
Linkin Park have been one of the more charitable bands in music over the years, forming the Music for Relief organization that has helped many around the world. In the wake of Bennington's death, they've also formed the One More Light Fund in honor of Bennington's spirit and desire to help others and it serves as a part of the Music for Relief organization. Those wishing to make a donation to the One More Light fund can do so here.
So mark it on your calendar and set your digital notifications. You can stream the Linkin Park & Friends Celebrate Life in Honor of Chester Bennington memorial concert live from the Hollywood Bowl in Los Angeles at 7:45PM PT on Friday, Oct. 27 via the Linkin Park YouTube channel.
10 Unforgettable Chester Bennington Moments
Rockers We've Lost in 2017
Loudwire Music Awards Tickets Available Now!