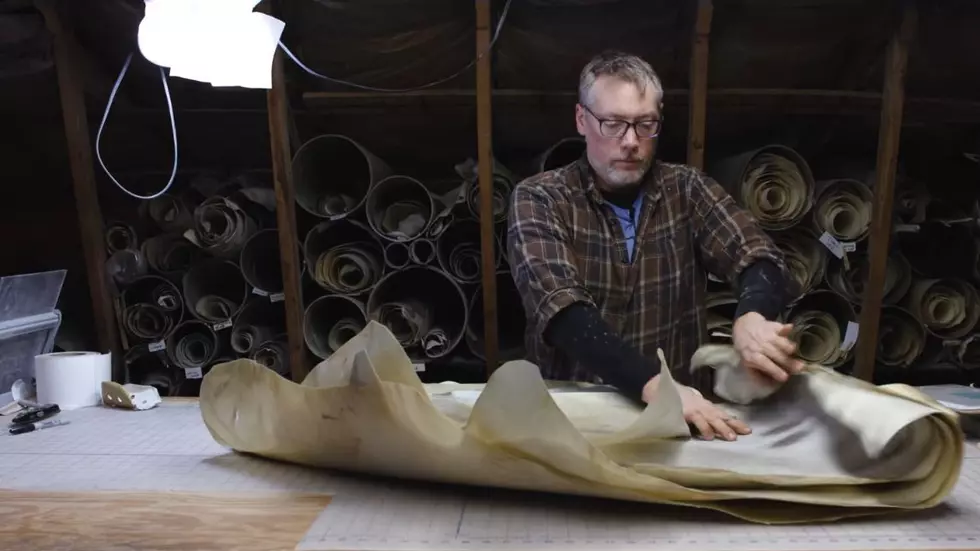 You're Looking at the Last Parchment Maker in America – Nowhere Near Parchment, Michigan
Business Insider Today/Facebook
We think of the Kalamazoo suburb of Parchment as having a strong connection to the paper industry. But would it surprise you to learn there is only one known artisan in America making authentic parchment? And the shop is nowhere near Southwest Michigan.
In New York State's Hudson Valley is the nation's last and only parchment maker. When we use the term parchment, we generally just think of it as a fancy way to say paper. In reality, parchment is specifically made from animal hides. Even more specifically, sheep and goat skin.
The process detailed in the video is quite extensive from the soaking of the hides to the process of removing the hair and leaving only the crisp vellum. Err, maybe not vellum. That product is related to parchment but vellum is make from young animals, lamb, goat kids and calves.
The company featured in the video, Pergamena describes the process:
Parchment has been in use for thousands of years. Our process sources goat, calf, sheep, and deer skins from North America, blending ancient production methods with a modern approach. After cleaning and removing the hair, our skilled workers stretch and scrape each skin by hand. Attention is paid to the quality and unique characteristics of each piece to figure out the best application for it. All of our parchment is then sorted and chosen for each individual order with an eye for color, texture, size, and other less tangible qualities that a project might call for.
The product is certainly high end with 5 square feet for goat parchment selling for $115.
Those who have watched the video are duly impressed with the skill and dedication:
Hope this bada-- old skills will keep alive forever. Maybe bring the school kids to visit. Kids can learn from it and meanwhile can bring some income to keep this industry going.

I love seeing old tech still being used, as a carpenter I thoroughly enjoyed seeing this process, I'm glad you were able to keep your family business alive through using old techniques!!

You just have to admire people who have the drive and perseverance to achieve their goals and dreams. This is a great example. Thank you for keeping an old craft alive!
While the count of parchment makers around America is only one, here is a tally of items from guns to ghost towns:
How Many in America: From Guns to Ghost Towns
Can you take a guess as to how many public schools are in the U.S.? Do you have any clue as to how many billionaires might be residing there? Read on to find out—and learn a thing or two about each of these selection's cultural significance and legacy along the way.