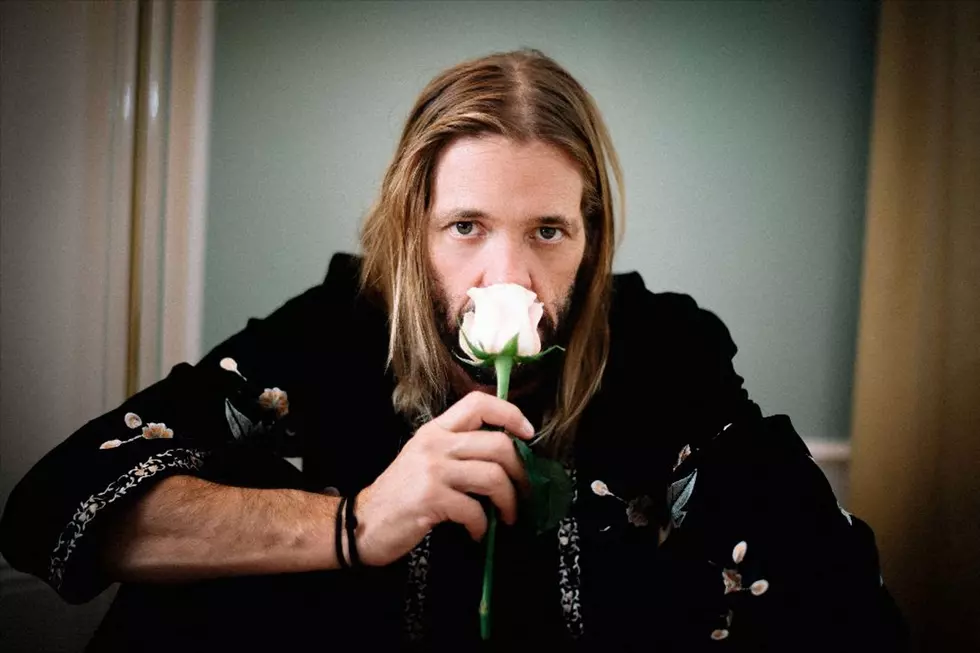 Interview: Taylor Hawkins Explores 'Musical DNA' With a Little Help From His Friends
Oliver Halfin, Getty Images
Though Foo Fighters have an extensive catalog, in recent years the band has pulled out a wealth of classic rock covers in their shows, with the love for that era of music that shaped them shining through. Drummer Taylor Hawkins is taking things a step further with his band The Coattail Riders, issuing the vibrant new album Get the Money that is firmly rooted in the influence of his '70s and early-'80s upbringing.
"I think on a certain level it just falls along with every other record I've ever made. I do love layering vocals. I love Queen. I love the Beatles. I love Sweet. I love a lot of the '70s glam stuff – T. Rex and Bowie and all that stuff. I just love the sound of it. I just love the sound of a bunch of men singing together," Hawkins says laughing. "I also love Yes and there's a little prog in there, but I don't sit around and go, 'I wanna sound like the '70s.' It's just kind of my musical DNA. It's just what comes out of me."
For the latest Coattail Riders album, Hawkins and Jane's Addiction's Chris Chaney are joined by frequent Hawkins collaborator Jon Lousteau and Brent Woods, though Hawkins' Foo friend Dave Grohl is never too far from the fray. "I'm certainly influenced by being around Dave, and he's a big influence on everything I do musically. It's impossible for him not to be really," says Hawkins, who included Grohl on the Jon Davison-featuring single "Crossed the Line," as well as "You're No Good at Life" and "Middle Child."
Grohl isn't the only name guest on the album. Hawkins was able to nab a who's who of rock to join in the fun, adding a guest lineup of Yes' Jon Davison, Guns N' Roses' Duff McKagan, Heart's Nancy Wilson, Jane's Addiction's Perry Farrell, Mark King, Joe Walsh, The Pretenders' Chrissie Hynde, Queen's Roger Taylor, Foo Fighters' Pat Smear and country star LeAnn Rimes into the mix. Yet, it all sounds like one rocking band where no guest turn overshadows the music.
For Hawkins, the one get that still has him giddy is The Pretenders' Chrissie Hynde. "When Chrissie Hynde said, 'Yeah, I'll come sing on your record,' I literally just had to go, 'Oh shit. Ok, what might she be interested in?' So we had 'Get the Money' and I just made a direct correlation because I had been reading Chrissie's book, meanwhile the inspiration for the lyric came from Joe Walsh," recalled the musician, who saw the pairing as bringing things full circle. "Chrissie went to Kent State while Joe Walsh was forming and doing his first James Gang gigs. So I thought that would be kind of a neat connection, if you will." The reggae-tinged title track that Hawkins gets to duet on with Hynde has become one of the focus songs for the album.
Hawkins isn't the only one with pull, as his Coattail Riders cohort Chris Chaney has some pretty high placed friends. A hang with Chaney's Jane's Addiction bandmate Perry Farrell yielded a guest turn on "I Really Blew It." "I just thought it was hilarious cause it's such a quirky weird song and the lyric, I actually mention Jane's Addiction and we actually play a bar of 'Pigs in Zen' off Nothing's Shocking, so I just thought it'd be fun to have him sing this," says Hawkins. "He's such a good sport, and he knows I love him so much and he knows he's such a major influence on me musically, that he was into it."
One song that took a little longer to nail down was "Don't Look at Me That Way," which found the Coattail Riders joined by Heart's Nancy Wilson and Guns N' Roses' Duff McKagan. Hawkins reveals he initially had Olivia Newton-John in mind, but she passed, while attempts to get Berlin's Terri Nunn didn't work out either. But thanks to his daughter's keen ear, Wilson became the choice.
"I was driving down the road with my daughter and 'These Dreams' came on the radio and my daughter said, 'She's got a cool voice.' So I thought I'd see if I could get her, and she lives near me, so I reached out and she said, 'Yeah.' I was stoked," revealed the drummer.
"I think she did a beautiful job and I definitely think we sound really great together. I would love to do something together again at some point or another," Hawkins says of his collaboration with Wilson.
No Cars, But Plenty of Ignition
Listening to the other primary focus song, "Crossed the Line," it's hard not to miss the new wavey synth sounds that give the track a distinct feel. When asked about having a Cars influence, Hawkins stated, "When we were putting it down, we felt the exact same way. Oh my God, I loved the Cars. Those first two records are amazing. It's like the first two Cheap Trick records, there's not one bad note."
He continued, "I have to say the first Cars record is absolutely perfect. Then you get into the production with Roy Thomas Baker who produced Queen. You can totally hear it. Even the drum sound came from what Queen were doing."
Hawkins revealed, "I love Elliott Easton, and I wanted Elliott to play some guitar on this record, but he had some hand problems and from what I understand, he's fine now. So, you know, the next one. I definitely want to do something with Elliott, especially after the passing of Ric Ocasek."
The drummer says that he would love to be able to take the Coattail Riders (and some of their friends) on tour, but scheduling for the next year makes it challenging. However, he does have hopes of bringing a performance to late night TV and has the desire to play some Coattail Riders shows when the Foo Fighters are off of an album cycle.
Taylor Hawkins and the Coattail Riders' 'Get the Money' album arrives on Nov. 8 through Shanabelle / RCA Records. Be sure to pick it up here.
Foo Fighters Albums Ranked