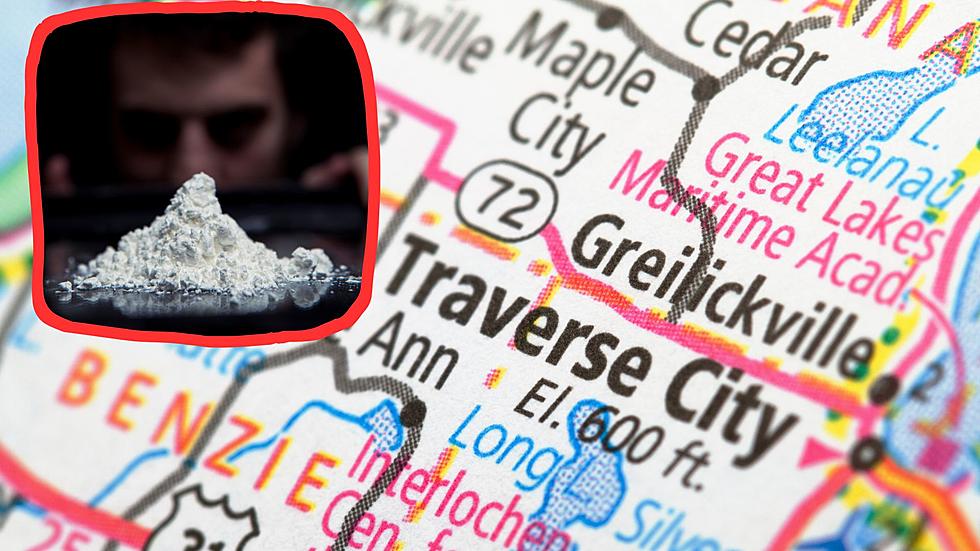 Traverse City Has Highest Cocaine Use In The Country
Canva
If there's one city that most Michiganders, and out-of-staters will go out of their way to visit Up North, it's Traverse City. It sits right above the pinky of Michigan, on Grand Traverse Bay, and is known for its seasonal tourism.
But alongside those cherries, breweries, wineries and vineyards, apparently Traverse City is known for its Cocaine, too?
Yep, Traverse city isn't just the Cherry Capital of the World, it's also apparently the Cocaine Capital of the U.S.! It beat out California, New York, and Miami, Florida!
This is all according to OLBG.com, an online sports betting guide that created a list of the top 10 wildest cities in the U.S. and Traverse City landed at No. 3 overall on the list!
In fact, Michigan landed two cities in the top 10, with Grand Rapids coming in at No. 10.
But we're here to talk about the "Cherry" Capital of the World. Take a look at those numbers.
Right off the bat, adults who drink is on par with cities like Reno (who took the top spot as Wildest City in the U.S.), Pittsburgh, and Grand Rapids. The only city with a higher drinking percentage was Milwaukee at 1/4 of the city... but it's Wisconsin, so that makes sense.
As for the other numbers, Michigan is a legal state for marijuana, so it makes sense the number there would be high, again, on par with Grand Rapids, but still the highest percentage of any other city.
"Completing this top three list of the wildest US Cities is Traverse City, MI. This city is renowned for its vineyards and wineries, and this makes it less surprising that 23% of the residents here drink heavily. Some of the other factors that make up Traverse City's 7.71/10 overall score are the 12.76 strip clubs per 100,000 residents, and the fact that 65.8% of people here have taken marijuana."
There are no casinos in Traverse City, so that's obviously a big factor in holding them down on the list.
But look at that percentage for cocaine usage! According to this analysis, Traverse City has the highest percentage of people who have taken cocaine in the country at 23.8%! They beat out EVERY major city in the United States! Only Phoenix comes close.
That means, with a population of just under 16,000 people, nearly 1-in-4 people living there have used cocaine!
So the next time you're up in Traverse City during the winter, you might question whether all the white stuff around you is actually snow!
Traverse City Asylum, Re-Visited 2022
The Best You-Pick Cherry Farms Across Michigan
Now that Michigan's really getting into summer, it's the perfect season for cherry picking.
Whether you want to stay around town in the mid-Michigan area, or perhaps make a day of it and travel someplace new and check out the Michigan town that's literally famous for its cherry festival; Traverse City, there are plenty of great you-pick cherry places across the state. Check out where you can pick your own cherries across Michigan.