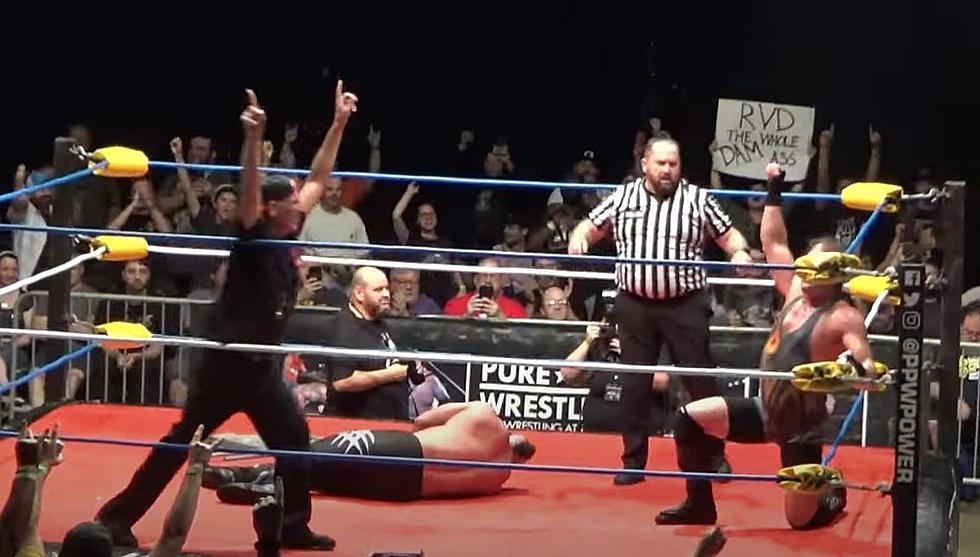 Rob Van Dam Welcomed Home To Battle Creek & Wins Homecoming Match
Mr. Sports
With the lights dimmed and with an arena full of professional wrestling veterans and upand-comers, Battle In The Creek 3, The Whole Dam Show prepares to give a grand "Welcome Home" to Battle Creek native, WWE Hall of Famer Rob Van Dam. But it's not just the former WWE Champion who is familiar to this area, as former UFC Superfight Champ and former WWE wrestler & UFC Hall of Famer Dan "The Beast" Severn was also in attendance.
Severn started off the press conference with the gleam from his NWA & UFC titles in front of him shining over the gathered members of the press. For Dan, the experience of being at Battle in the Creek is a chance for him to share stories from his storied past, as he has stayed very busy after his life in professional wrestling:
AEW's Brian Cage was also in attendance and when asked about how easy it is to be a professional wrestler, he was very blunt with his answer, hitting on how conditioning is incredibly important:
Go to a mirror and take off all our clothes except your underwear and ask yourself "Would I pay to watch that on television?"
Rob Van Damn and his wife Katie Forbes, along with his Manager Bill Alfonso, were also in attendance and gave an awesome look into his career with a special Q & A.
Rob Van Dam faced Brian Cage in the main event of Battle In The Creek 3 and with the 5-start Frog Splash, took the victory in the same arena where his dream of becoming a professional wrestler began.
Re-Surfaced Fan Photos From WrestleMania 3 At The Pontiac Silverdome
On March 29th, 1987 history was made as 93,173 people jam packed the Pontiac Silverdome in Pontiac, MI to watch one of the most major shifts in sports entertainment history. Here are some recently surfaced fan photos from that day.
Gallery Credit: Photos Provided By Charlie Aquilina & Bill Jacek