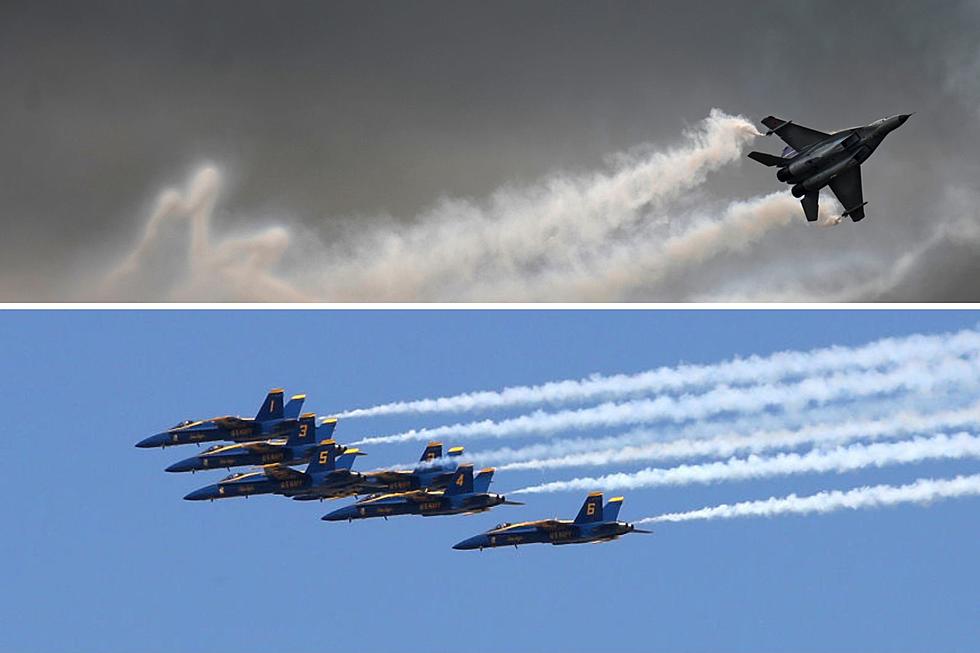 1990 Kalamazoo Airshow Was the First Time Soviet Union MiG Jets Flew in US Airspace
DMITRY KOSTYUKOV/AFP via Getty Images + Gregory Shamus/Getty Images
The first time MiG fighter jets from the Soviet Union and US Navy Blue Angels ever peacefully shared the skies in an airshow setting happened in Kalamazoo, Michigan in July of 1990. In fact, it was the first time MiG jets had ever flown in US airspace (that we know of).
The High on Kalamazoo Airshow was once a top summer attraction in Southwest Michigan. Incredibly, the airshows landed a coup being the first of three cities to see MiG fighter jets from the not-yet-defunct Soviet Union.
This was the Top Gun-era with the airshow coming just four years after the film's release.
Contemporary newspapers reported:
East meets West in the skies over Kalamazoo this weekend as top fighter pilots from this country and the Soviet Union show their stuff in the annual High On Kalamazoo airshow.

Organizers predict record crowds for the event, largely because of the first public display in the United States of the MiG-29/FULCRUM, the Soviet Union's top fighter jet.Sharing top billing will be the U.S. Navy's Blue Angels precision demonstration squadron of F/A-18 Hornets.
The Soviet jets made just three appearances that summer. After Kalamazoo, the MiGs were on display at airshows in Chicago and Dayton, Ohio.
Top Gun Over Kalamazoo - MiGs and Blue Angels Share the Skies
The event was fondly remembered recently on the Vanished Kalamazoo Facebook group discussing High on Kalamazoo
I remember seeing a Russian MiG there one year.
The faux dog fight with the F14 was fantastic and extra long!
I remember that event. It was very significant at the time.
Extremely significant as their stop in Kalamazoo was the first time ever a Soviet warplane flew in United States air space. The cockpit exchange was the first of its kind.
I went to the screen printing shop and had a special t-shirt made with "High on Kalamazoo" on the front and "Migs over Michigan" on the back.
MiG Landing Shuts Down I-94
Because the Kalamazoo Airport sits just a few hundred feet south of Interstate 94, safety of the highway was a concern when putting on the airshow and incredibly the entire interstate needed to be shut down during the "Russian invasion." A former airshow manager recalls, "It actually shut down I-94 one year to accommodate the first-ever landing on U.S. soil of visiting Russian MiG fighter jets."
The High on Kalamazoo airshows are nothing but memories now. But digging deeply enough online can score you some incredible videos like this one from the 1994 airshows when Robosaurus "ate" both a car and airplane:
LOOK: 25 must-visit hidden gems from across the US
From secret gardens to underground caves,
Stacker
compiled a list of 25 must-visit hidden gems from across the United States using travel guides, news articles, and company websites.