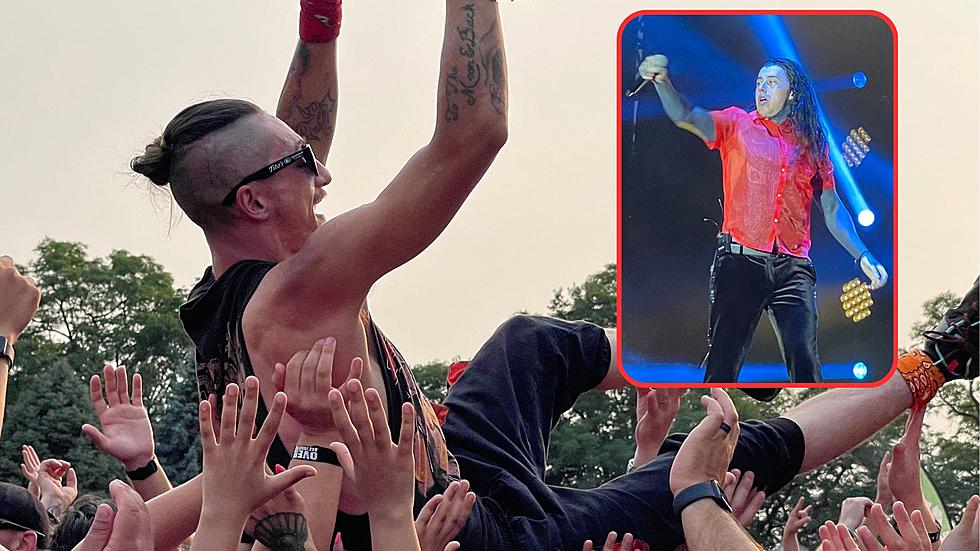 Michigan Sparks Beef with Wisconsin During Falling In Reverse Performance
Meatball/TSM
It's long known that Michiganders have beef with Ohio. Since the Toledo War (which we won, of course), Ohio has always been considered Michigan's little brother. Just ask the Buckeyes.
But it seems outside of territorial disputes, and football, Michigan now has new hatred for another state - Wisconsin! And it's all thanks to Ronnie Radke of Falling in Reverse.
If you lived within two miles of Belknap Park in Grand Rapids this past weekend, then you know it was Upheaval Festival weekend. Dozens of bands played to tens of thousands of fans.
Friday Night's headliner, Bring me the Horizon, turned the crowd into a frenzy of crowd surfers and moshers, all backlit by fireworks at one point. But there was one comment by frontman Ollie Sykes that caught the crowd off guard. Maybe some paraphrasing here, but it was to the extent of... "You guys are WAY better than they were in Wisconsin last night."
They had played a co-headlining show with Fall Out Boy in Sommerset, WI the night before.
So already, the seed was planted.
What Happened During Falling In Reverse?
Saturday Night's Upheaval headliner, Falling In Reverse, turned the crowd practically feral (in the best way possible), and then lit a spark that began our new hatred for Wisconsin.
"You guys are amazing," Ronnie said. "WAY better than Wisconsin last night. You guys seriously saved my weekend."
He went a little deeper into detail on his twitter about his experiences with their show at RockFest the night before, which takes place just outside of Caddot, WI.  
Ronnie responded to a few trolls, as he typically does, but after his comments on stage to the crowd at Upheaval, he let the Michigan crowd get in the last word... (Caution: NSFW language).
Yeah... "F*** Wisconsin!" And for the record, the "Smash Mouth" moment this troll fan in Wisconsin was referring to, was one of the biggest pops early on in the set.  
Falling in Reverse's First Festival Headline Performance
It wasn't all beefing, though. Ronnie was eternally grateful for the chance to play Upheaval, which was actually the band's first headlining festival performance. He even stopped the show for a few minutes to acknowledge the crowd, thank them for sticking around to the end of the night after a long day.
"It really means a lot to us that you all stayed to see us tonight, you all hung around to the end... This is incredible. Thank you."
Falling in Reverse had never headlined a festival date until Upheaval Saturday Night, which was the final act of the entire event. Upheaval also saw bands like Ice Nine Kills, Halestorm, Lamb of God, We Came As Romans, Dorothy, and dozens more play the entire weekend.
There were three bands that ended up not playing, though. The week before, New Years Day had to pull out of their performance, and were replaced with Until I Wake. Then Asking Alexandria had to drop out due to drummer James Cassells' broken foot. However, they were replaced on the "Lookout Stage" by Flyleaf with Lacey Sturm.
In This Moment became a late scratch to the festival, after an issue with the amount of space on stage needed for their show.
This was the third year for Upheaval Festival in Grand Rapids, which shares a lot of artist traveling between RockFest in Wisconsin (F*** WISCONSIN!), and InkCarceration Fest in Ohio that same weekend.
You can see some of the photos from the main stage in the gallery below.
Upheaval Festival 2023 - Grand Rapids
Just a few of the shots from the crowd during Michigan's Premiere Hard Rock and Metal Festival in Grand Rapids!