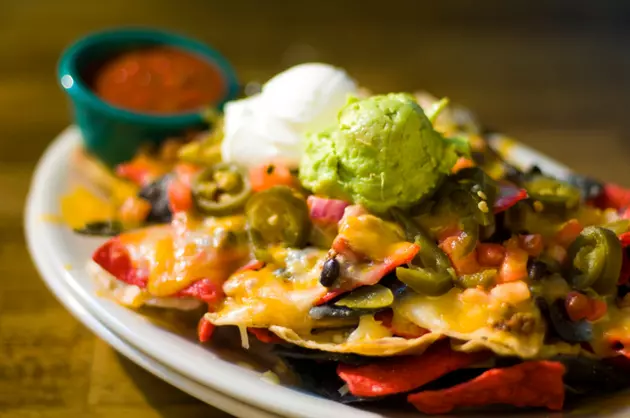 International Day of Nachos – Celebrate with Breakfast Nachos
3dan3
One evening I was hanging out with a friend catching up on episodes of FXX's You're the Worst. It was yet another moment where Edgar had slaved in the kitchen to prepare breakfast for his roommates, only to have them bulldoze through the room and out the front door without so much as a 'thank you.' With large puppy-dog eyes, and a quiver to his lip he whimpers, "But I made Breakfast Nachos..."
Breakfast Nachos. I love breakfast. And I love nachos. Two great tastes that go great together. I was instantly inspired to pull the idea of Breakfast Nachos together. And I did. To great acclaim.
Since Sunday, October 21st is International Day of Nachos, I thought I'd share the perfect way to celebrate the day; my Breakfast Nachos recipe.
Tortilla Chips
Jimmy Dean Hot Breakfast Sausage, cooked and crumbled
4-6 eggs, scrambled
1 10oz can of Rotel Diced Tomatoes and Green Chilies, drained
1 jalapeno, diced
1/4 cup onion, diced
Shredded cheese
Sour cream
Guacamole (optional)
But olives are never optional. They're gross and don't belong on Breakfast Nachos.
1. Preheat oven to 350 degrees. Line a baking sheet with parchment paper. Spread a generous amount of tortilla chips on the baking sheet in a single layer, followed by cheese (I'm not judging how much you use, but save some for garnish). Pop that in the oven for 15 minutes.
2. Meanwhile, while the chips are in the oven, cook and crumble the sausage and scramble the eggs.
3. When cheese is melted, remove baking sheet from oven. Add the can of drained Rotel followed by sausage, onions, jalapeno, and scrambled eggs. Top with remaining cheese. Serve with sour cream and guacamole.
Some people add refried beans, others substitute chorizo for the pork sausage. It's nachos, it can be whatever you make of it. Adding this recipe to your weekend will seriously shake up the cereal and cartoons rut you find yourself in. Just be sure you honor International Day of Nachos the way it was intended to be.
Bonus Videos: Foodamazoo