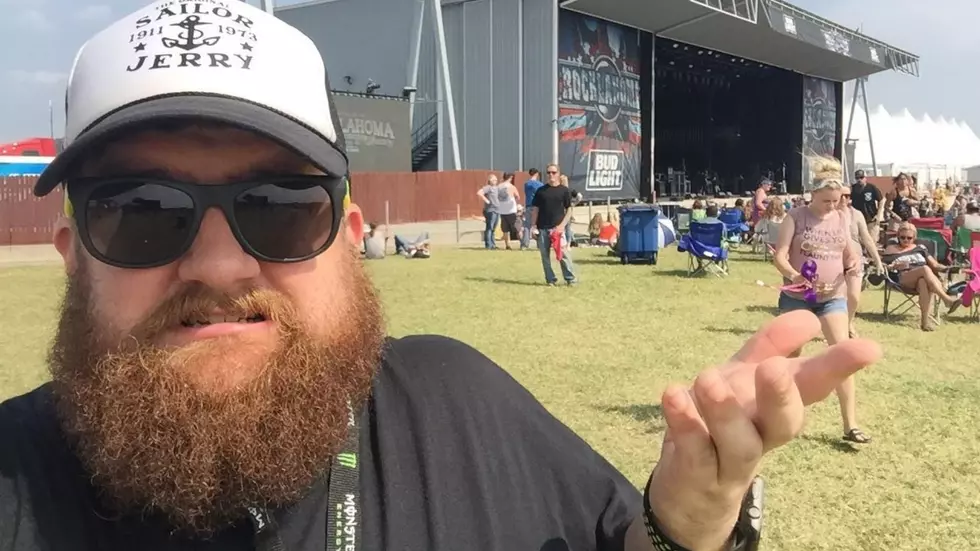 Get to know Meatball from the Rocker Morning Show
Who the hell is Meatball?
Well... I'm Meatball. Originally from a small town southwest of Wichita, KS (Shouts out Conway Springs Cardinals), I managed to do my best to disappoint my parents by working in two dying industries (newspaper and radio), yet they STILL managed to at least CLAIM they're proud of me.
What you need to know about me is pretty minimal - I'm a live music junkie, who broke a rib at his first ever concert (I got crushed against the rail at a Slipknot show in 2005), and still wanted to go to more.
I did grow up a band nerd. Both my parents taught music, band and choir on all levels except college, and you can blame the rest of the CSHS brass section for getting me hooked on hard rock and metal.
My dad is responsible for introducing me to Rush, Boston, Kansas, and Chicago. My friend Matt is to blame for Korn, Disturbed, and Slipknot.
I spent time wandering through Oklahoma, and ultimately ended up back home in Wichita, KS for almost 4 years, before "the north" started calling my name.
So far, it's been an adjustment getting acclimated to Michigan. I'm used to wide open spaces and trees planted in straight lines to keep the soil from blowing away (thank you dust bowl). So not being able to see the lights on top of the grain elevators in the next town is a new experience for me. AND, just so you know, Spring has already sprung down there. Leaves on all the trees and everything.
Bottom line, I left my home to try something new, and landed in Kalamazoo, MI. And so far, I love it. It's got all the best parts of Wichita that I loved (breweries, unique restaurants, walkable downtown), and trimmed some of the fatty parts that I wasn't so fond of (flatness).
So, yes, I'm new here. New to Michigan in general. My preconceived stereotypes mostly revolved around the Lions being one of the worst NFL franchises in the league (Go Cowboys!), and how rough Detroit can be. I hadn't yet experienced the generosity, and welcoming nature of western, and SW Michigan, which I am eager to explore and exploit.
I'm also stoked to FINALLY see the Great Lakes in person. Trips to South Haven in the summer are going to be a regular occurrence.
So hopefully, that's a good enough introduction. I'm an open book (as you'll hear on the Rocker Morning Show), and no stranger to embarrassing myself for the sake of the station, the community, and a good laugh. I hope to make this my home for a LONG time.
Since I'm new, let me know what I should be doing to get to know Kalamazoo, and Michigan. Follow me on my socials:
Facebook: @MeatballOnTheRadio
Instagram: @MeatballOnTheRadio
Twitter: @Meatball_Rocks
Where should I go next? What should I see? Where should I eat?
10 Things You Should NEVER Do In Kalamazoo