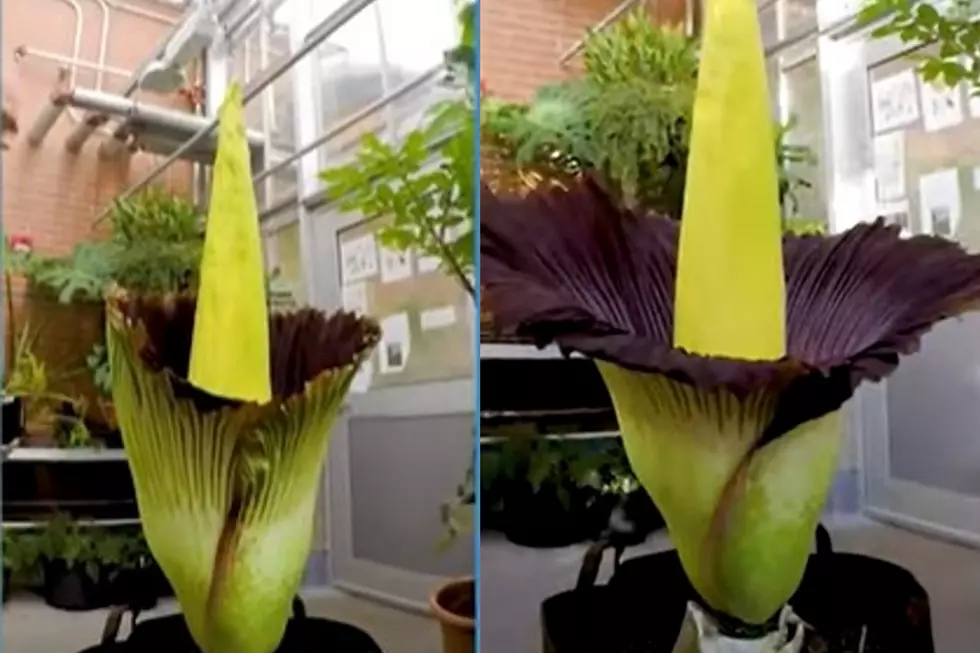 Watch This Foul-Smelling Corpse Flower Come to Life in Michigan [VIDEO]
ABC News via YouTube
I only wish there was a way for us to convey the smell of this plant through your phone or computer. But you're probably better off, as this technology hasn't been developed yet.
A putrid-smelling flower is in bloom on the west side of the state. The 'corpse flower' as it's known, emits a smell that some say is equated with the smell of rotting flesh.
In the time-lapse video below, you'll see the corpse flower coming to life on the campus of Grand Valley State University in Allendale. The flower is located in the Barbara Kindschi Greenhouse.
How Rare is a Corpse Flower?
The Corpse Flower is a rare breed. According to the Detroit News, there are only about 1,000 in existence. The United States Botanic Garden says the plants grow up to eight feet tall.
Although the flower has an incredibly pungent odor, it's said to not last long. The period when the flower is in bloom before it goes dormant is relatively short.
The university tells the Detroit News that the flower emitted its powerful smell for just a few days.
"The greenhouse was open late on April 18 when the plant was at its odorous peak. The stench was fleeting; by April 21, the flower and the smell were fading fast."
They go on to say that the flower will die back to the soil and go dormant for an unknown amount of time. The flower only blooms when it gathers sufficient energy, so the period between showings can range anywhere from a few weeks to more than a decade.
Unique 1940s Frank Lloyd Wright Home Airbnb in Michigan
The Eppstein House, a vintage Airbnb, is not only is an architectural prize, but it's also a slice of Michigan history ready to be discovered.
Built in the area known as The Acres, the home was one of those
designed by Frank Lloyd Wright specifically for a group of scientist
working in research labs the for Upjohn Company in the mid to late 1940's. This particular home was built for Samuel & Dorothy Eppstein, both employed at Upjohn. Restored by the current owners, the home is a step back in time filled with retro decor and more.
Flint + Saginaw's Most-Popular TV Anchors - Where Are They Now?
A lot of highly talented people have sat behind the anchor desks at the area's TV stations.
We're taking a look at some of the area's most popular news, weather, and sports anchors who have visited our homes electronically and then moved on.
25 Highest Paying Jobs In Michigan