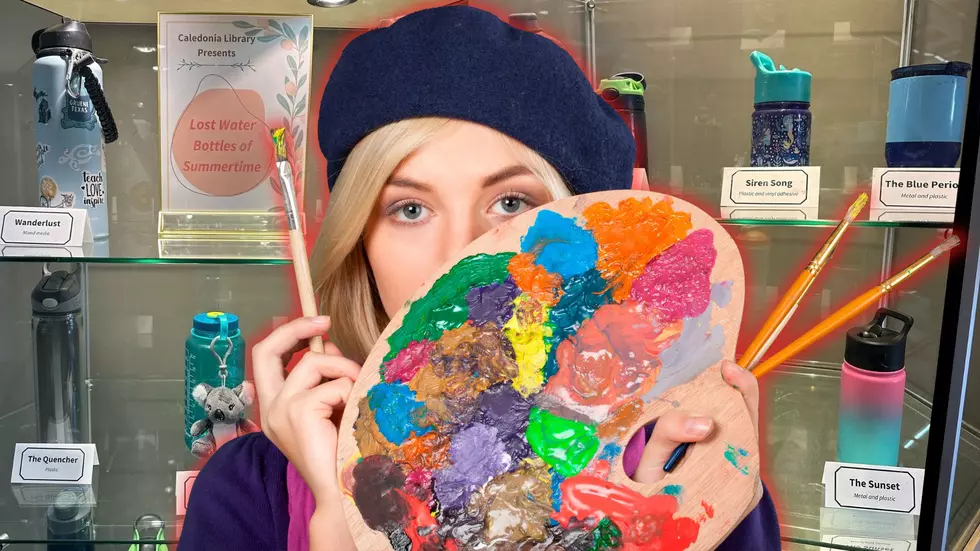 Caledonia Library Displays 'Lost Water Bottles Of Summertime' Art Exhibit
Caledonia Township Library
One of the most prevalent accessories you'll see at a library (aside from books and backpacks) is the water bottle. They come in all shapes, sizes, heights, and colors. And many people will help identify their water bottles with stickers and accessories so they can tell them apart from others.
Because of this, many can start resembling works of art. One library in Michigan recognized this and turned water bottles into a fun exhibit.
The Kent District Library - Caledonia Township Branch has quite a few visitors if water bottles are any indication. Recently, they opened a new exhibit, that has nothing to do with books, and more to do with the people who read their books.
The "Lost Water Bottles of Summertime" exhibit opened for display in the past month and features exactly what it says - water bottles, lost in the stacks of the library during the summer. And there's quite an array of bottles, too.
You have everything from "The Purist," a simple, elegant, slim bottle that serves its purpose with practically no flair at all, "The Animal Lover," which features a stuffed koala attached to the lid strap, and my personal favorites, "The Wanderlust" and "The Collector," as they're covered top to bottom in stickers, similar to my own water bottle at work.
Sam Holland, the Assistant Branch Manager of the Library, said it was a fun alternative to the normal displays they do, and it puts a fun twist on the "lost and found" often ignored in the library.
The exhibit is open for all of October, though, I'm sure if someone comes in to claim one of the "works of art" as their own, they'd gladly return it.
If not, I'll gladly take "The Blue Period" off your hands... I could use a new water mug that fits in the cupholder of my pickup.
Artificial Intelligence Generates Pure Michigan Images