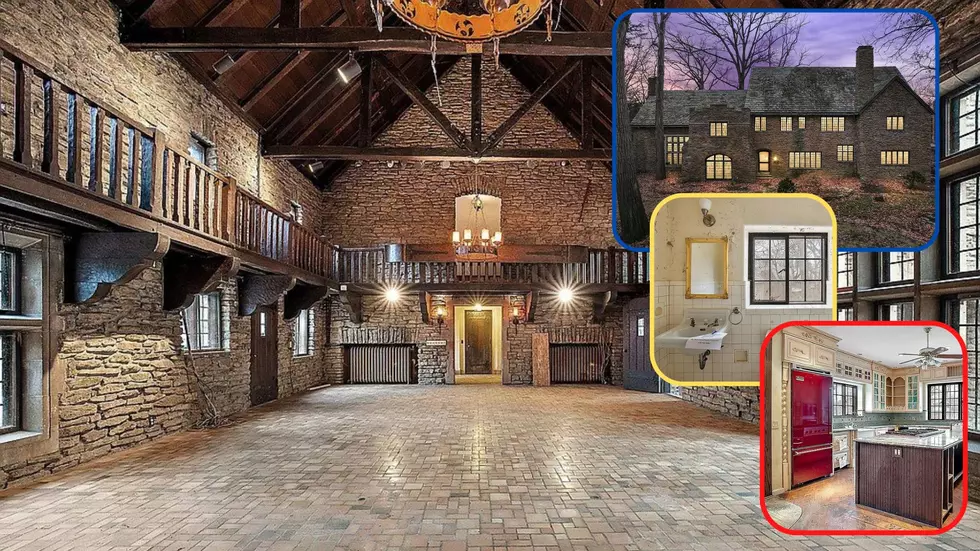 Detroit 'Castle' For Sale is Part Medieval Times, Part Haunted House
Zillow/Real Estate One
I genuinely don't know what to think about this home in Detroit. It's HUGE, yes, and obviously, the areas that the realtors want to focus on are kind of cleaned up, and REALLY featured heavily. But the rest of this home is VERY strange, and a hodgepodge of modern, ancient, and every era in between.
Also, it's DEFINITELY haunted.
Check out this massive mansion in Detroit for sale, and let us know what you think.
Right off the bat, you see the main feature of this home, a MASSIVE Main Hall, straight out of Medieval Times. I'm not joking when I say, you put a gift shop, and a bar in this place, hang up a bunch of Knight shields and lances, and this is the entry hall you walk through, BEFORE devouring chicken and soup by hand while watching ostrich races and jousting.
You've got TWO massive fireplaces (there's one behind the camera here, too), and that upper balcony where the King makes his announcements, and entryways into other smaller dining halls (that's where the bar would be)... this is an awesome room.
"Be the King or Queen of your own castle... Built to resemble that of a 19th century United Kingdom castle with soaring wood-beamed ceilings and stone facade, this Tudor Revival style single-family home was built in 1924 and offers 7 bedrooms, and 6.5 bathrooms."
It's more than 8,000 square feet in total, which, about HALF of it looks to be in that main hall. And for at least PART of the home, that whole "castle" vibe is accurate. Right down to the dining room, and this separate entry into the dining area.
(My only question about this room is... what are the TINY doors for? Do pets and children not get to use the main doors?)
But then you get into the Kitchens, which are mostly modernized. (One might have its own morgue? See that in the gallery below...)
And then... the rest of the house, which feels more like an old Sanitarium than it does a home. The bathrooms look like they belong in a 1950s Middle School, and the random trees painted on the walls are just... creepy and weird.
All told, though, you've got a huge plot of corner land, in a sought-after neighborhood in Detroit, LOTS of space, and you can get it all for under half-a-million bucks.
Seems like a steal in this market.
Just know, if you buy this house, you MUST wear either a corset or codpiece when you're in the "castle" side of the house. It's required. Also, just gonna have to tolerate the ghosts, which I'm almost ASSURED are there. The place is almost 100 years old ya know.
Look through the gallery below, and let us know if YOU would pull the trigger and buy this place.
MASSIVE Detroit Mansion Is Part Medieval Times, Part Haunted House.
This home for sale is HUGE, but practically a steal at this price, given the size of the home. But once you get a look inside, you understand why it might be a tough sell.