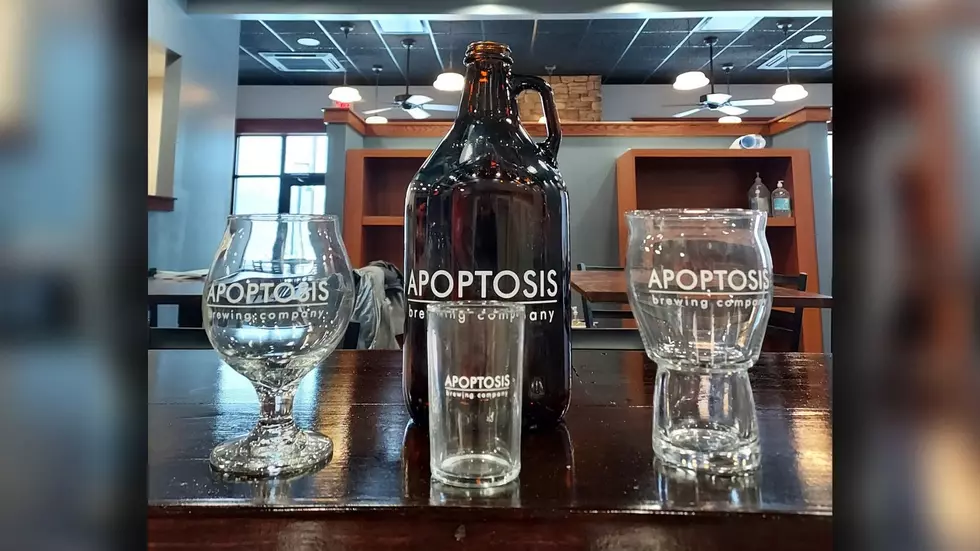 New Brewery 'Apoptosis' Opening In Kalamazoo During Craft Beverage Week
Apoptosis Facebook
Two things I learned while trying to brew my own beer in my dorm room in college:
First, when brewing beer, keep the room well-ventilated, and there's no hiding the smell of alcohol fermenting from your RAs. And Second... I suck at making beer.
Two guys who apparently do NOT suck at making beer, though, are Andrew Birr and Dustin Johnson, who have been friends for a long time, perfecting their brewing process for 10 years. Now, they're ready to share their unique flavors with Kalamazoo and will be opening Apoptosis Brewing Company on Saturday, January 14th.
Friday, Kalamazoo craft beverage week will kick off, celebrating all of the unique craft drinks offered in the city. (What a way to throw off your Dry January resolution, right?). 
Apoptosis decided to make its debut in Kalamazoo on day two of the week-long celebration. Johnson and Birr have been perfecting their craft drinks for a decade. So I have to imagine what they're offering is going to be nothing short of top-notch.
They listed some flavors in an MLive article recently, and it's clear they give all of their beers a personal touch. One of them is the Golgi Apparatus New England Style IPA, which is named after a song by the band Phish (Johnson's apparently a big fan.)
You know if a beer is named after a song like that, it's gonna be a good time.
Other flavors on tap will include:
Spiral Nebulae Milk Stout
Blood Orange Revolution Blonde Ale
Absolute Zero Pre-Prohibition Lager
and more yet-to-be-named varieties of a hazy pale ale, a lemon seltzer, pineapple seltzer, and raspberry wheat ale.
They also have local tie-ins with their Foxy Cream Ale, which is made with concord grapes from Corey Lake Orchards in Three Rivers.
For now, the only offerings they have are the drinks, but Johnson and Birr plan on adding food options and a kitchen at some point. For now, they'll bring in outside food, and plan on having food truck nights when the weather permits.
This is great, AND adds a new flavor to the already strong culture of craft drink producers in the community. I know Grand Rapids is considered the best craft beer city in the U.S., but Kalamazoo's may be taking a run at it soon if places like this keep coming along.
Apoptosis will open at 3811 S. Westnedge, Saturday, Jan. 14th. You can find them on social media, and at the website for more details on what they'll have to offer. And while you're out this week, be sure to visit ALL of Kalamazoo's craft beverage locations during Craft Beverage Week.
You can find a list of all of our unique spots below.
Kalamazoo Craft Beverage Establishments
A Full List of the Kalamazoo Breweries, Distilleries, and Wineries you can find in the city (and Portage).