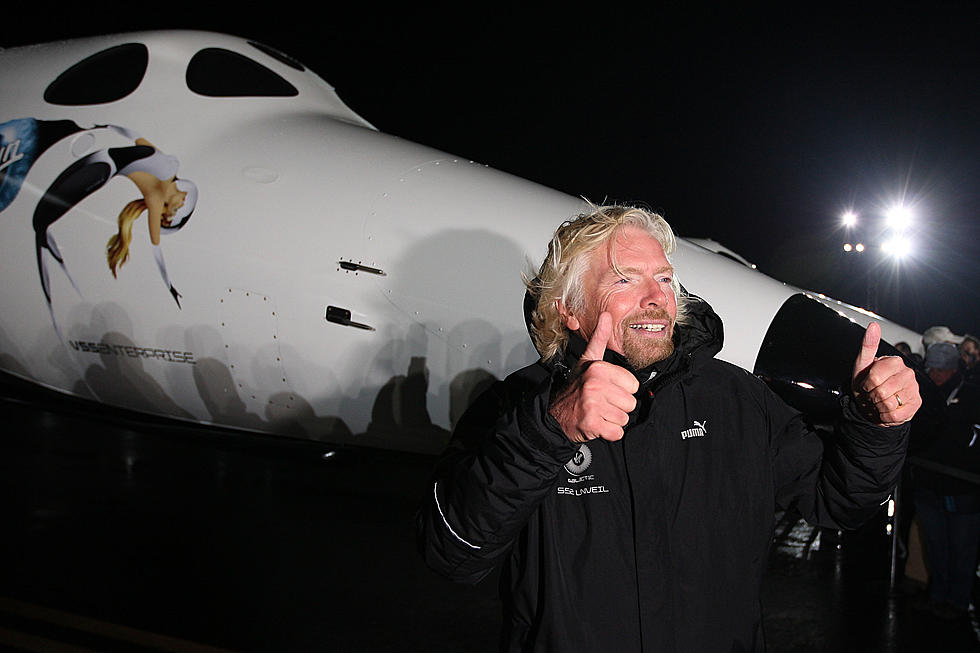 Richard Branson is Heading to Space Sunday Morning: Here's How to Watch
Getty Images
History is about to be made, and you are probably going to want to check it out.
Billionaire Richard Branson its set to launch into the great beyond on Sunday, and the world will be watching. The flight, considered a test flight, is part of Branson's company Virgin Galactic. The company, that was founded in 2004, was started  as a way to take normal people like you and me on rides aboard  rocket-powered planes to the edge of space and back.
Tomorrow's flight will see 70 year old Branson as part of the crew of the VSS Unity, with his mission focused on assessing  the experience for future travelers. And lets face it...he really just wanted to be first before Amazon founder Jeff Bezos. He's set to blast off aboard Blue Origin's New Shepard rocket on July 20.
The Scoop on the Flight
So here's the deal. The flight is scheduled to take off on Sunday morning with lift off around 9:00am ET or shortly after. The flight will launch  from Spaceport America in New Mexico, which is about 180 miles south of Albuquerque.
How You Can Catch the Action
There will be a  livestream starting at 9 a.m. ET on Sunday  that can be found on Virgin Galactic's Twitter, Facebook, and YouTube. Their  company's website will also be  running a countdown to the big launch. Even The Late Show's Stephen Colbert is getting in on the action. He will be hosting a livestream of the event as well.
If everything goes as planned the flight will last about 90 minutes. This will be VSS Unity's 22nd test flight and Virgin Galactic's fourth crewed mission beyond Earth's atmosphere. It will, however, be the first fulled crewed flight test to the edge of space for the company.
Every Marvel Cinematic Universe Movie, Ranked From Worst to Best
It started with Iron Man and it's continued and expanded ever since. It's the Marvel Cinematic Universe, with 24 movies and counting. But what's the best and the worst? We ranked them all.