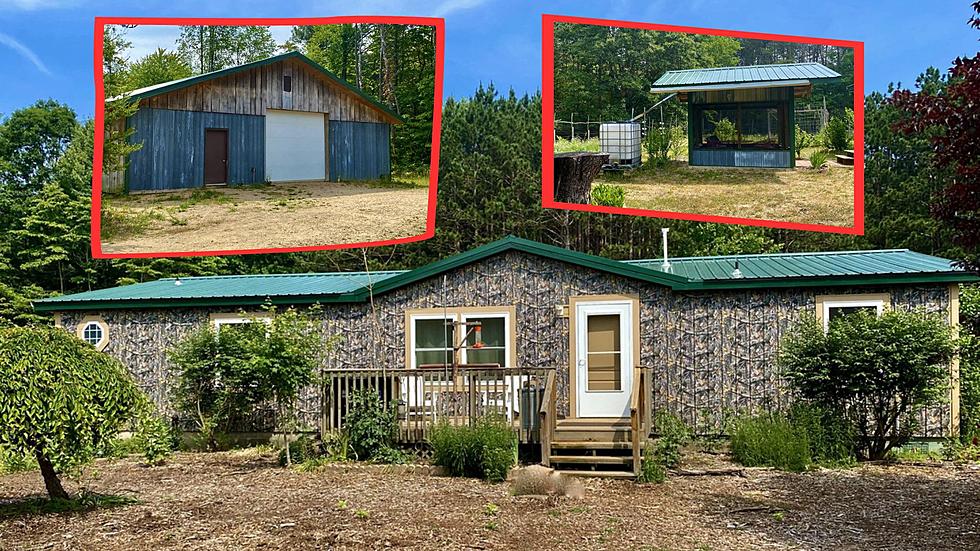 Get WAY Off The Grid With This Camouflaged Home in Grand Junction
Grand Junction Redfin/Century 21
It's the dream home for John Cena, because chances are, you can't see it... unless you have GPS.
This home in Grand Junction, MI popped up for sale the other day, and chances are, you're at least PARTIALLY right about WHY this house is covered in camouflage siding.
Let's address the elephant in the room right away, this house looks like it was custom built by Bass Pro Shop. And while it's pretty easy to see NOW, in the fall, when the trees look more fall-like, it might be a little more difficult to see much more than the roof and doors of this house from the road.
It's had extensive renovations recently with new insulation, energy efficient windows installed, new appliances, bathroom features, and a water softener system under the sink.
For those who want to get away from the busy city life, this is EXACTLY what you need, as it's located far off the road, and comes with 9 acres, an insulated barn with vehicle lift and shop, a greenhouse, gardens, shed, and tons of extras on the property.
But of course, if you're a hunter, this is a dream home. It's north of Grand Junction, and only about 15-20 minutes from South Haven. It's isolated in a wooded area, and has a LARGE, stand-up freezer in the kitchen to store all your kills.
So whether you're out ice fishing in the winter, deer and turkey hunting in the fall, or just need to get away from society for a bit in the spring and summer, this place is actually kind of perfect for that.
I might suggest upgrading the TV in the living room though. If this ends up being a hunting lodge, then FOR SURE the fellas are gonna want a bigger screen than what's currently on the wall in the living room.
Check it out below, and see if this 1,456 sq ft. home, 9 acre property is worth the $349,900 price tag!
Look Hard for this Camouflaged Home in Grand Junction, Michigan
This place is John Cena's Dream, because you can't see it... unless you're right on top of it.
Hunting Seasons in Michigan
There are a TON of opportunities to hunt in Michigan, but many are only open for certain windows through the year. See which seasons are open and about when, as some exact dates will fluctuate from year to year.