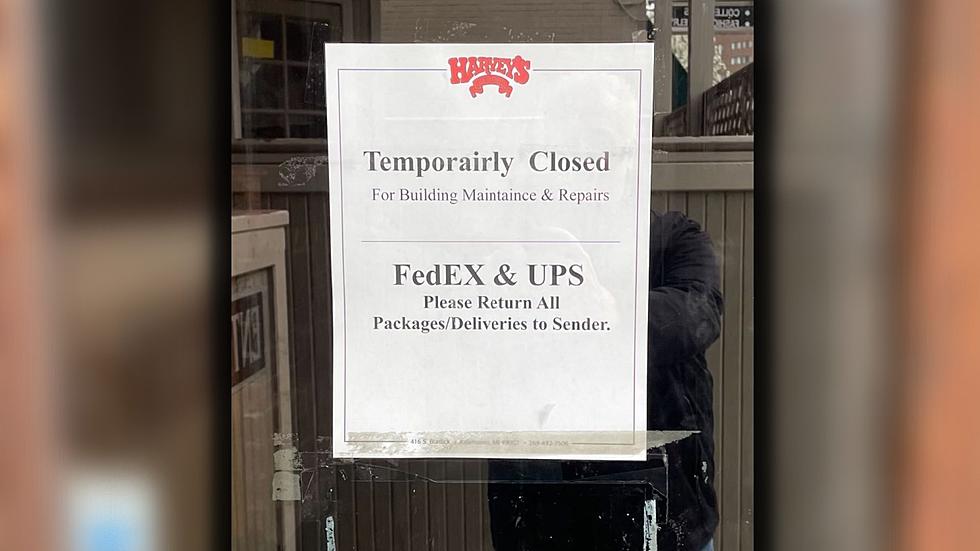 Chaotic 'Closed' Sign at Harvey's on the Mall is a Bad Sign
James Shotwell
Well, some rumors are swirling around a recent downtown Kalamazoo closure, and the public has questions, especially after a chaotic sign appeared on the front door.
Is Harvey's on the Mall actually temporarily closed, or is it for good? Because there are some indications that it might not re-open.
The sign first popped up on the front door a little over a week ago...
... and there's a couple concerning things about this sign.
1. "Temporairly" is not a word, which makes us wonder if this was a sudden closure of the pub. Sudden closures aren't always a great sign... also, this sign is not a good sign.
2. Harvey's is currently refusing all packages being delivered. That seems to indicate this might not be "temporairy."
3. Closed for Building "Maintaince" & Repairs also isn't a good sign. Not only are "Maintainces" and repairs expensive, they can also take a long time to complete... just ask Saugatuck Brewing, and why they were delayed opening their new downtown location.
For the record, Harvey's only has a 2.5 Star rating on Yelp, and while most people call the restaurant and pub a "Kalamazoo Staple," they also aren't too keen on what it's become over the years.
One reviewer says...
"They used to be a place for a girls night out to grab some drinks and food to watch the game, as of the past few years they're more aimed toward the college crowd... It's not uncommon to see people in the act of vomiting on the side of the building."
Another reviewer on Yelp said they, too, used to like the bar, but it's changed, and the "vibe is definitely not the same."
The overall consensus seems to be that Harvey's USED to be the place to go in downtown. But now... you look for just about any alternative.
So it's unclear as to why, exactly, Harvey's on the Mall is closed, and maybe people are jumping to conclusions. But recent Reddit discussions, and other indications point to this being much more than being "temporairly" closed.
Long Gone Bars and Nightclubs in Kalamazoo
Photos of bars and nightclubs that no longer exist in Kalamazoo, Michigan.
5 Dive Bars You Need to Check Out in Kalamazoo
Love dive bars? You're not alone. Here are a few favorites you can check out in Kalamazoo