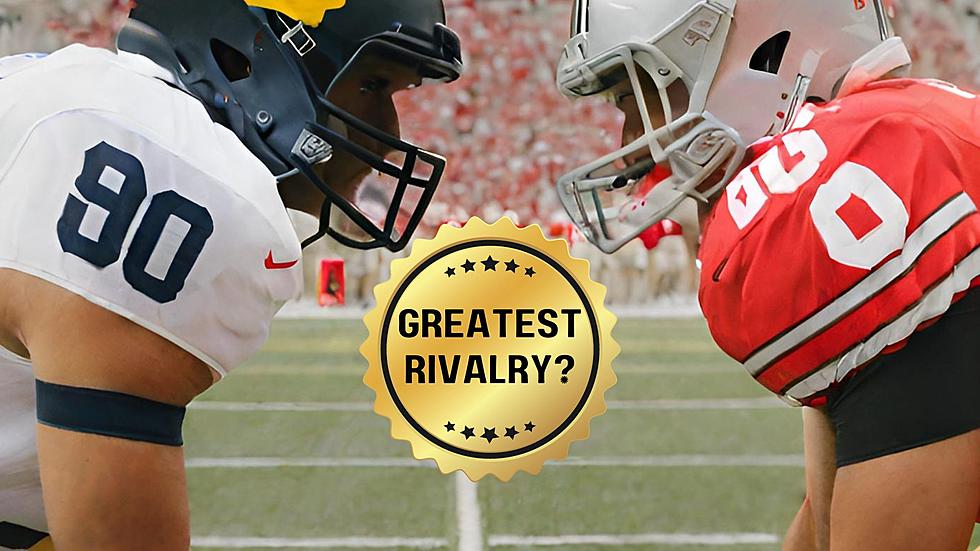 Is Michigan vs. Ohio State Really the Biggest Rivalry in College Football?
Canva
Since 1988, there hasn't been a year where neither Michigan, nor Ohio State, weren't ranked in the top 25 of College Football when it came time for the fourth Saturday in November. It's the biggest game of the year for both schools, and semi-regularly has National Title implications.
It's a storied rivalry that REALLY took ahold of the national spotlight during the Ten-Year War from 1969 to 1978, putting the Big Ten, and both programs firmly on the minds of every college football fan across the country. And while the game IS a big deal... is it really the biggest rivalry in college football?
As mentioned above, Michigan vs. Ohio State almost always has the national spotlight on it. It's marked by every college football fan as, typically, THE must-see game of the year, no matter what conference your own team is a part of.
The history behind the rivalry is unmatched by most, but is it still possible that there are more important rivalries in the country?
Let's examine a few others that COULD take the crown.
Red River Rivalry: Texas vs. Oklahoma
The Sooners and Longhorns have been battling over bragging rights from across the Red River for over a century. They first met in 1900, and fight for the Golden hat, and play the game in a TRUE neutral setting every year, halfway between the two school at the Cotton Bowl, on the Texas State Fairgrounds in Dallas.
Only four times since that first game, has the Red River "Showdown" not happened, and Texas currently leads the series 63-51-5 (.550). The bond between these two teams is so strong that they decided to leave in-state rivalries behind to head to a new conference.
These two (current) Big XII rivals hate each other with a passion, to the point that OU routinely will take the penalty (if given) simply to "throw up" the Horns Down hand gesture.
But is it the biggest rivalry in college football? No. Because plenty of people who cross the Red River still get along with their neighbors to the north or south. At best, it's the third-best rivalry in college football.
Notre Dame vs. USC
While this is a big game, and it has been regularly on national television, this rivalry has only found consistency for 77 years. The first meeting was in 1926, but they have only played each other yearly since 1946.
It's not played in a neutral location, neither team is consistently ranked in the Top 25 with National Title implications, and Notre Dame holds a relatively commanding lead in the series, 49-37-5 (.566).
It may be the longest-distance rivalry at just over 2,000 miles, but it just isn't enough to come close to Michigan vs. Ohio State. Not to mention, it's typically played earlier in the season, so there's not a lot of build-up to it. It just kinda... happens.
The Iron Bowl: Alabama vs. Auburn
Aside from the occasional 4-OT thriller, or "Kick Six" game, this series is pretty heavily in favor of Alabama. For all we know, the Crimson Tide have only ever had two coaches - Bear Bryant, and Nick Saban. I couldn't even tell you who any other coaches were between them.
Their first meeting was a LONG time ago in 1893, which makes the rivalry older than the Red River Rivalry. And they've played yearly since 1948. But there's a HUGE gap from 1907 until that game in 1948, after the ONLY tie game in the series.
The excuse for not playing for 42 years, was because of "player per diems and officiating." But it's really gonna take you 42 years to figure that out, for two schools who are just a few hours apart? If this rivalry TRULY meant anything to them, they would have figured it out within a  year, or two at most.
Not to mention, Alabama holds a significant lead in the series, 49-37-1 (.569).
Again, not even close.
There's only ONE other game in college football that can come close to matching Ohio State vs. Michigan, and it has even bigger implications than the score on a scoreboard.
Army vs. Navy
The two Military Academies literally fight for the Commander-in-Chief's Trophy... ya know... the President of the United States of America's Trophy. The Black Knights and Midshipmen have met a total of 123 times so far, with Navy holding a slim 8 game lead at 62-54-7 in the series.
The game has been played annually since 1890, except ONLY five other times, and THOSE games were canceled either due to a pandemic, or war.
It's held to the very last game of the regular season every year, and is ALWAYS nationally televised, no matter what ranking either team has, or even if they ARE ranked. It's been played in six different states, five different metropolitan areas, and 10 different cities.
The game is SO important, they have it scheduled out five years in advance, which is even further out than the Super Bowl. And no matter your affiliation, your favorite school, or whether you're even a football fan, this game will find its way on your television in one form or another, even if its just briefly.
It is the oldest, and longest reigning major college football game in the history of the game, and it's the only true rivalry that could come close to being more important than Michigan vs. Ohio State.
But... even our armed forces can't outmatch the hatred those Hairy Nuts, and That School up North have for each other.
Michigan vs. Ohio State.
Their first meeting was in 1897, and Michigan rolled on Ohio state 34-0. But ever since that first game, their next meeting has been circled on the calendar.
The rivalry is even rooted in actual history between the two states. Michigan and Ohio literally had a battle for Toledo... and if these two places are willing to fight over TOLEDO... then you know they're willing to really lay it on the line for a "W" in a football game.
Michigan currently holds all of the major accomplishments - Largest Victory (86-0 in 1902), The longest win streak (Nine Games from 1901-1909), the Longest unbeaten Streak (15 from 1897-1918), AND the overall lead in the series, 60-51-6.
But there are two big differences in this rivalry that NONE of the above-mentioned games have a history of...
1. Pedigree. Like I said, since 1988, at least one of these two teams has been ranked, and many times, in the top 10 in the country. Between the two schools, there are 19 National Championships, and an ungodly number of Hall-of-Famers, NFL recruits, and record-holders.
2. Pure, unadulterated, unrestrained, feral hatred for the other team. It's so bad, that during the Ten-Year war, Both Woody Hayes and Bo Schembechler were accused of spying on each other during practices, and potentially tampering with the other team... all to win a single football game in any given year.
Both fan bases are savage toward each other, and since the 1970s, there hasn't been a year where this rivalry game didn't mean something.
From the Snow Bowl of 1950, and the Ten-Year War, to Jim Tressel turning around the Buckeyes, and 2006's "Game of the Century," this rivalry is rooted so deep in the culture of Michigan and the state of Ohio, that for a few hours every Fourth Saturday in November, even Michigan State Spartans kinda wish they were a Wolverine.
So, the big question... is there a better rivalry in college football, aside from Michigan vs. Ohio State?
Absolutely not.
In fact, there is only ONE scenario that would make a game bigger than this... if somehow they managed to meet in the National Title Playoff Game, too.
Why Ohio State Has No Business Being Favored Over Michigan To Win The Big Ten
Several sportsbooks have given Ohio State better odds to win the Big Ten in 2023 than the team that has systematically and thoroughly eviscerated the Buckeyes over the past two seasons. Either Vegas is all of a sudden in the business of giving away money or the oddsharks know something the rest of us don't.
Michigan Wolverines' All-Time Record Against Each Big Ten Team
Historically, the Michigan Wolverines are dominant in Big Ten play. Here's their all-time record against each team in the conference.
Gallery Credit: Jacob Harrison