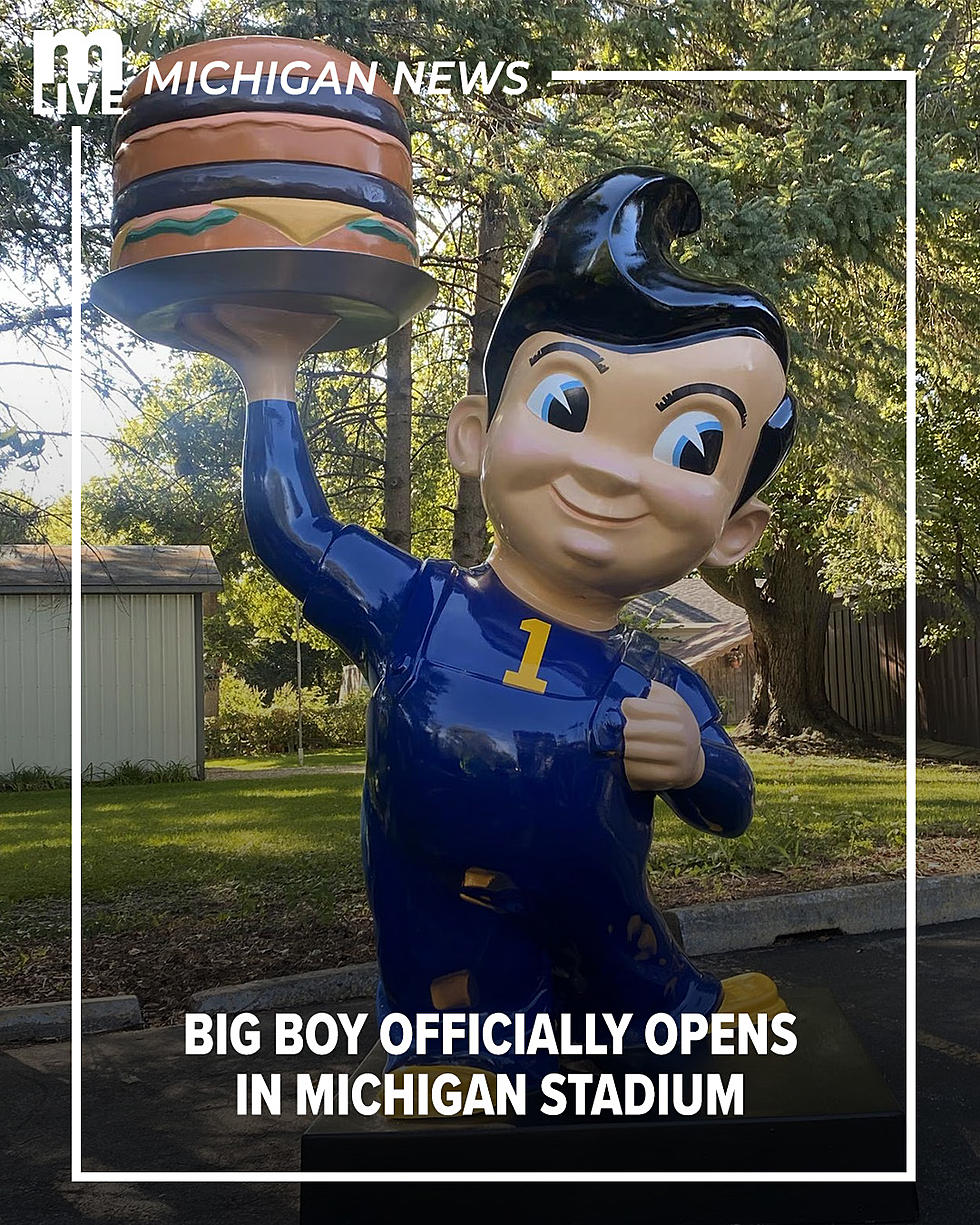 Michigan Stadium Concessions: Big Boy In The Big House
Michigan Wolverines on Mlive.com Facebook
College athletic facilities have continuously gotten better over the years, but most of them still have the same physical structure that they started with way back in the day, while others have renovated what they already have or picked everything up and moved to a whole new site. Either way, something that matters more than some people think is the concession options.
Michigan Stadium which is also known as the Big House is the 3rd largest stadium in the world and the largest in the United States. Holding well over 115,000 people the Big House is ROCKING on Saturdays when the Wolverines are playing in Ann Arbor, those people need to eat. Luckily for them, a Michigan staple has moved in to provide grub during the pigskin game.
Currently, Michigan Wolverine Fans can chow down on the stadium-provided concessions, Cottage Inn, Char, Flock, Distrito, Sticky Stuff, Kona Ice, Nacho Cantina, Carvel Ice Crea, and Bearclaw Coffee. These options provide a plethora of different cuisine choices like tacos, nachos, chicken tenders, pretzels, burgers, hot dogs, popcorn, various desserts, beverages, and more.
The above selection has some nuance things like barbecue, pizza, and tacos on the menu but nothing will compare to the newest addition to the concession lineup at Michigan Stadium. Big Boy is making his way to the Big House as the deal was inked this week. Slim Jim Burgers, waffle fries, shakes, and more will be served as a Maize and Blue decked-out big boy statue sits by the stand.
The 3-year deal came to fruition during the Wolverines 30-3 victory over the Pirates from East Carolina University on Saturday, September 2nd. From what I read on Mlive, the concession stand is already built and should be good to go come Saturday as the Wolverines have their second straight home game against the Rebels from the University of Nevada-Las Vegas.
Michigan State and University of Michigan Heisman Trophy Winners and Finalists
Take a Peak at U of M Coach Jim Harbaugh's Multi-Million Dollar Estate
University of Michigan's Head Football Coach Jim Harbaugh million dollar estate in California is quite the place. The estate has an 8,500-square-foot home and a guest house with five bedrooms. There are a total of eight bathrooms between them. The estate covers 1.3 acres in Atherton which is considered one of the most affluent locations in the area near Stanford University. The home just sold for $11.78M. Take a look inside.