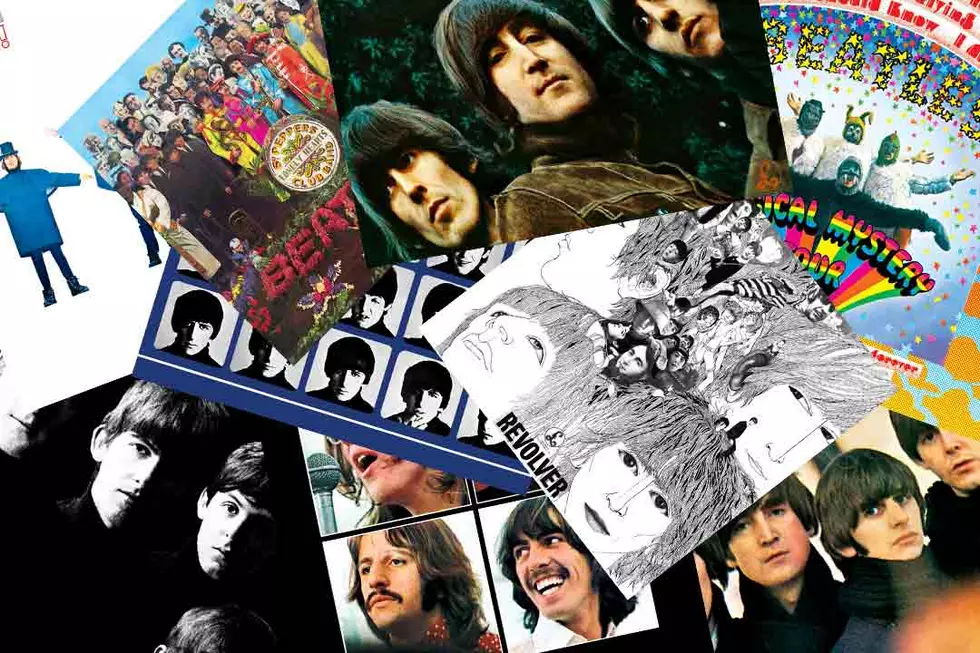 The Worst Song on Every Beatles Album
UCR
The Beatles catalog includes so many classic and timeless songs, it's easy to forget that not all of them are gold. As their albums got better, and their creative impulses grew stronger, picking out the lesser numbers gets more difficult, as you'll see in the below list of the Worst Song on Every Beatles Album.
Sometimes it was a hastily written and recorded track to fill out an LP length; other times, it was a cover song that was the most skippable song on an album. There are in-studio goofs, foreign-language remakes of a big hit and solo throwaways that don't even make it to the minute mark found below.
Nobody was spared. Paul McCartney and George Harrison are the most represented – the former's love of old-timey music didn't often fit in with the band's experimental nature; the latter didn't hit his songwriting stride until later – but John Lennon takes the lead on a song or two, and even Ringo Starr can be heard in the background of one track, though the songs in which he sings lead are so few that the law of averages works in his favor here.
"Misery"
From: Please Please Me (1963)
An early Lennon and McCartney song featuring both on lead vocals and struggling to find some footing.
"Till There Was You"
From: With the Beatles (1963)
The Beatles could be forgiven for some of the groan-inducing covers on their debut album. But there's no excuse for this Music Man show tune to be on the second.
"When I Get Home"
From: A Hard Day's Night (1964)
Typical Beatles song from the Beatlemania days. Nothing special.
"Everybody's Trying to Be My Baby"
From: Beatles for Sale (1964)
Two Carl Perkins songs show up on the second side of the Beatles' fourth album. Starr sang the other one, Harrison has this one. They had outgrown these sorts of lazy covers by this time.
"Tell Me What You See"
From: Help! (1965)
The Beatles had advanced so much on Help! that this forgettable song seems like a step backward.
"Think for Yourself"
From: Rubber Soul (1965)
Like his bandmates, Harrison was starting to grow as a songwriter on Rubber Soul. But he still had a way to go.
"I Want to Tell You"
From: Revolver (1966)
Harrison wrote and sang three songs on Revolver. This one's the easiest to forget.
"Good Morning Good Morning"
From: Sgt. Pepper's Lonely Hearts Club Band (1967)
The lead-in to the reprise of Sgt. Pepper's title track and the album's glorious finale, "Good Morning Good Morning" is not too bad.
"Your Mother Should Know"
From: Magical Mystery Tour (1967)
One of McCartney's post-Sgt. Pepper misfires is best known for its elaborate dance sequence in the Magical Mystery Tour movie.
"Wild Honey Pie"
From: The Beatles (1968)
Fifty-two seconds of McCartney nonsense from the White Album.
"All Together Now"
From: Yellow Submarine (1969)
Recorded right after Sgt. Pepper's but left in the vault until the Yellow Submarine soundtrack. Not essential, not terrible.
"Sun King"
From: Abbey Road (1969)
The second side of Abbey Road is pretty much free of the self-indulgent songs that ran through parts of the White Album. The medley's second piece is not one of those songs.
"Maggie Mae"
From: Let It Be (1970)
Less than a minute long and tossed off during the Get Back/Let It Be recordings, the traditional Liverpool folk song at least shows the occasional casual approach the group took during the sessions when they weren't at each other's throats.
"Komm, Gib Mir Deine Hand"
From: Past Masters, Volume One (1988)
The Beatles recorded two of their biggest hits in German as a thank-you to their early Hamburg fans. The reworked "She Loves You" is better than this lifeless take of "I Want to Hold Your Hand."
"You Know My Name (Look Up the Number)"
From: Past Masters, Volume Two (1988)
The B-side of the "Let It Be" single is another artsy throwaway, in the vein of "Revolution 9" and "What's the New Mary Jane." Started in the Sgt. Pepper's era, completed around Abbey Road.
"You Know What to Do"
From: Anthology 1 (1995)
When Harrison finally hit his stride, he became the Beatles' ace in the hole. But this early song, intended for A Hard Day's Night, shows why his songs were still being passed over at this point.
"That Means a Lot"
From: Anthology 2 (1996)
A McCartney-penned song from the Help! sessions that singer P.J. Proby had a minor hit with in the U.K. Forgettable – no surprise it didn't make the final cut.
"What's the New Mary Jane"
From: Anthology 3 (1996)
The White Album already had "Revolution 9," so this six-minute slice of avant-garde nonsense was shelved until the third Anthology record.
The Stories Behind Every Beatles LP Cover
In some ways, the Beatles' album art could be just as fascinating as the music inside.
You Think You Know the Beatles?