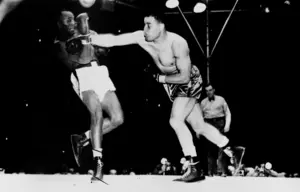 Two Boxing Legends From Michigan Died On This Date. Best Ever?
Joe Louis (1914 - 1981) rocks Jersey Joe Walcott with a powerful right during their world heavyweight contest at the Yankee Stadium, New York, which Louis won in the eleventh round. (Photo by Keystone/Getty Images)
I"m on a roll writing about sports history today, and I saw this on my Twitter feed from Michigan journalist Ken Coleman. On April 12th, 1981, Joe Louis died, at 66. And on this date in 1989, Sugar Ray Robinson died. He was 67. Both grew up in Detroit, with Louis remembered by younger fans, as the name on the Joe Louis Arena, which was home the Detroit Red Wings for nearly forty years. But the story behind both men is compelling.
You have to remember, up until maybe the turn of this century, boxing was a big deal. If you were heavyweight champion of the world, you were right up there as about the greatest athlete on the planet. Joe Louis Barrow, Jr. was the heavyweight champion of the world from 1937 to 1949.
Louis' life is fascinating. Born in Alabama, having a speech impediment, racial harassment that forced the family to move to Detroit. His fights with Max Schmeling (who was the pride of Adolf Hitler and Nazi Germany.) were of legend. (Ironically, he and Schmeling became close friends late in life.)
How good was Louis. He fought 69 times and had 52 knockouts. He lost only three times. He was the champ for over a decade.
Then after he retired from boxing, he became an avid golfer, and broke racial barriers in that world. A foundation he created is still making it possible for less-advantaged kids to play golf.
Sugar Ray Robinson has an amazing boxing career of his own. His record over a twenty five year career had 173 wins and 109 of those by knockout. He fought Jake LaMotta (the movie Raging Bull was about him) and beat him.
He was born in Detroit and borrowed another man's union card because he was too young to box. That's how he got his name, Ray Robinson. His birth name was Walker Smith, Jr. He is considered on of the top five boxers of all time.
Now, it's impossible to say who the best is. Many consider Muhammad Ali the best. There are several others. But The Irish Times summed it up well, in a piece on Louis and Robinson. They died broke, but they left a legacy that is timeless.
READ ON: See the States Where People Live the Longest
Read on to learn the average life expectancy in each state.
Heritage Guitar Co., Kalamazoo, 100th Anniversary, 2017