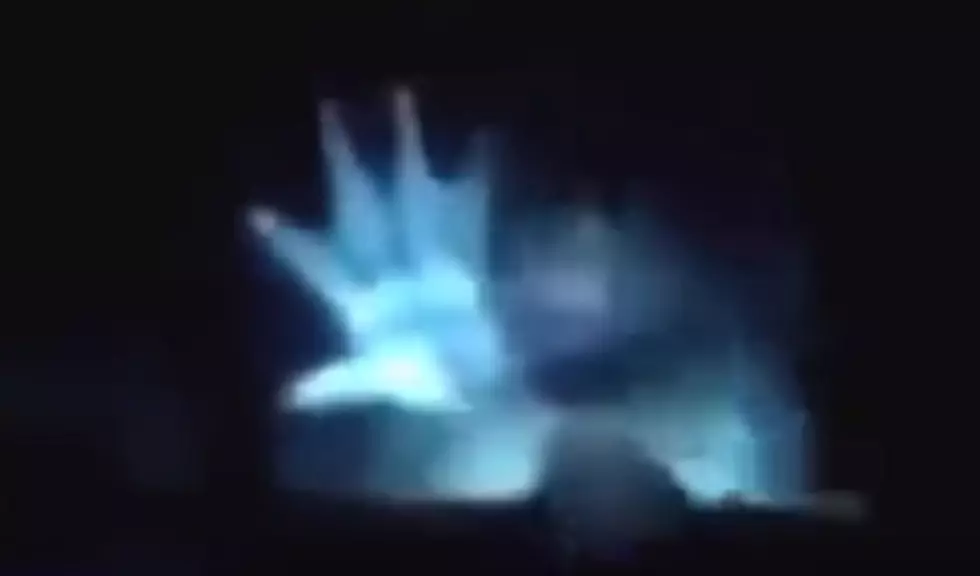 MICHIGAN MYSTERY: The Merman of Lake Superior
Screenshot courtesy of Chills, youtube
A half-man, half-fish can safely be referred to as a 'merman'.....and there was a witness to one that appeared to him in Lake Superior.
It was on May 3, 1782 that traveler Venant St. Germain had set up camp on Pie Island, which is right between Canada and Isle Royale. As he and his three fellow travelers sat on the beach around dusk, a strange creature appeared above the water, 75 yards offshore. He later described this thing as having "the upper part of its body...formed exactly like that of a human being...about the size of a child seven or eight years old...(it) bore an exact resemblance to those of the human face, had brilliant eyes, a raised hand of fully formed fingers, and a dark complexion".

Startled, St. Germain grabbed his gun and was about to shoot it when an old Ojibwe woman tackled him, wrestling him to the ground in an attempt to stop him from firing. As they struggled, the beast ducked under water out of sight. The woman then explained that to kill a merman meant bad luck. Mermen and mermaids are gods & goddesses of the lakes and just an attempt to kill one would bring devastating storms. Sure enough, for the next three days, storms with very strong, gale-force winds caused huge, damaging waves and ended up stranding every one on the island.
Sometime later, in relating his tale, St. Germain came across another traveler who claimed to have seen the same creature. This further re-inforced his belief and his re-re-tellings of the sighting. St. Germain's story became so widespread and well-known, that in 1812 he was practically forced to provide sworn testimony of his experience in a Canadian court.
The Ojibwe had a name for these creatures of the lakes: 'Maymaygwashi' and sometimes 'Nebaunaubaewuk'. These beings are also said to be child-like in appearance and sometimes hairy. If you think you may have seen one of these mer-people, you can identify them by some of the following descriptions:
CHILD-LIKE BODY
HAIRY BODY
HIDES AMONG ROCKS IN THE WATER
ROUND HEAD
SIX FINGERS
THREE FEET TALL
By the way, Venant St. Germain's bad luck wasn't over yet. A friend of his was horsing around by aiming an old gun at him; not believing it worked anymore, he pulled the trigger. BOOM. No more mister St. Germain.
To this day, voyagers on the Great Lakes still tell stories about the strange monstrous creatures they encounter on their travels.
MORE WEIRD MICHIGAN STUFF:
Abandoned Funeral Home Where Houdini Was Embalmed
Lake Lansing's Spiritualist Camp, 1882-1890s
CAMPSITE WITH GRAVE
20 of Michigan's Greatest Urban Legends
13 Ingham County Hauntings
UP NEXT: Fascinating Bigfoot Reports From Each Michigan County
NEXT: 50 Michigan UFO Reports Made in 2020 That Can't Be Explained Away
READ ON: Weird, wild UFO sightings from throughout history