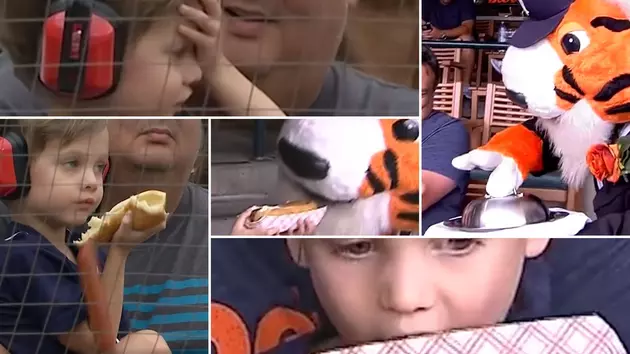 Detroit Tigers' Paws Presents Young Fan New Hot Dog After Dropping One
Detroit Tigers
Considering it was just national hot dog day I wanted to share a story about an incident that happened at a Detroit Tigers game involving a young fan and the Detroit Tigers mascot, Paws. At some point during the game, the young fan is enjoying a hotdog in the stands when he accidentally lets the hot dog fall out of the bun and hits the ground.
The dad gave his son the, "Oh my God I just paid $10 for that friggin thing look," but seemed amused that his son seemed shocked. He let the dog slide out of the bun as he put his hand on his forehead in disbelief.
When Your Kid Drops A $10 Hot Dog On The Ground...
I am never gonna financially recover from this...
The clip then shows Paws, presenting a brand new, hot dog to the kid, as if he is at a five-star restaurant, pulling the silver lid off of it. The kid was in shock as he received a brand new hot dog and even gave pause a taste test to make sure it was okay.
This was absolutely adorable and something worth sharing, even though I'm pretty sure the video was not filmed on National Hot Dog Day. Of course, there are those in the comment section who pointed out that they are wearing different clothes, and that they may have been from different games but according to one person, this is nothing out of the ordinary:
I think they went and got this dad and his kid and moved them to new seats and gave em both shirts, and then the hot dog of course. I'm from Michigan and have been to Comerica park many times and they do this kind of stuff a lot
I guess when it comes to Paws you can say: He Cheer, He Snack, But Most Important, He Give Hot Dog Back.
The Good With The Detroit Tigers In 2023
The Bad With The Detroit Tigers In 2023