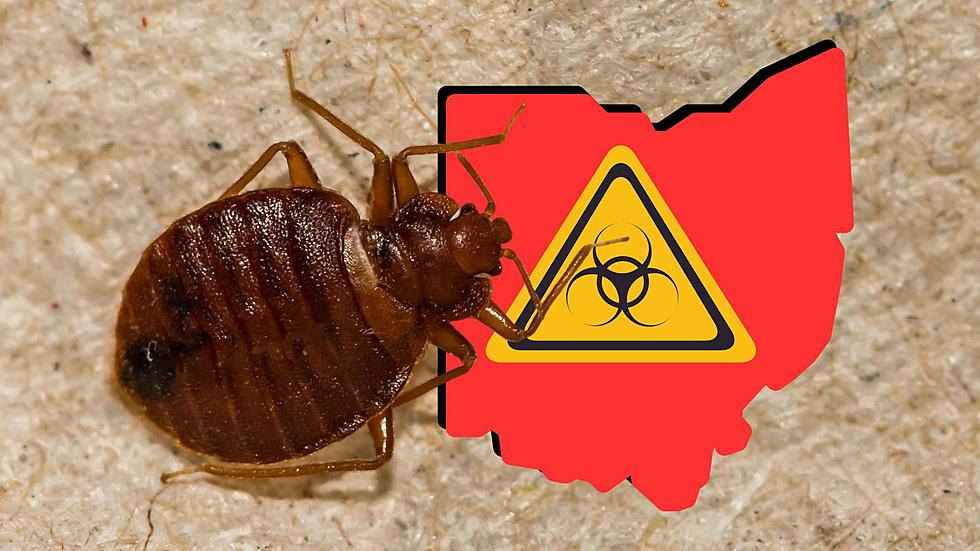 Ohio Has Six Cities on Bed Bugs Most Infested Top 50 List
Canva
I've fallen victim to Bed Bugs before, but not within my own control. A hotel I stayed at in Jackson, MS was infested, and I've never slept the same in a hotel ever since.
What's funny is, though, the city I experienced this in didn't even appear in the Top 50 most Bed Bug Infested in the country. However, a certain neighboring state to Michigan not only made the list, but did it SIX TIMES! And Two of them tied in the top 5.
The annual list is released by Orkin every year based on travel, and treatment data from their company. And from December 1 of 2021, to Nov. 30 of 2022, they treated HUNDREDS of THOUSANDS of homes and hotels for the pesky creepy crawly.
What they found across the country is... we have a Bed Bug problem, and it's no surprise that a lot of our biggest areas with infestation issues are in big urban cities.
For the third year in a row, Chicago ranks as the Top Bed Bug Infested city in the country, followed by New York, and Philadelphia at 2 and 3.
But then, we get to the first two cities in Ohio. Cleveland and Akron both ranked at No. 4 as the most Bed Bug Infested cities in the country. In fact, SIX cities in Ohio made the list.
No. 4 - Cleveland/Akron
No. 10 - Columbus
No. 13 - Cincinnati
No. 34 - Dayton
No. 38 - Toledo
This is by far more than any other state. And Michigan ranks near the top as well, with four cities in the Top 50. But, most of the cities on the list are in the southern part of the Lower Peninsula... conveniently close to Ohio.
How to identify If You Have Bed Bugs
You've seen pictures of bed bugs. They're small, reddish-brown insects, and typically stay very close to where they were spawned for food - only about 5-20 feet. Conveniently, that's easy proportions for small urban apartments and hotel rooms.
Things to look out for:
Rusty, or reddish stains on bed sheets or mattresses caused by bed bugs being crushed
Dark spots about the size of a pin head, which are actually bed bug excrement and may bleed a little on fabric like a marker
Eggs and eggshells, which are VERY small, and pale yellow skins that nymphs shed as they grow larger
Live bed bugs
If you think you've seen signs of Bed Bugs, contact an exterminator IMMEDIATELY... or, overreact like I probably would and burn the place down. Start over. Seems easier.
Legally, I have to tell you that's a joke.
You should NOT burn down your home for bed bugs... but still...
These 50 US Cities are Crawling with Bed Bugs
Every year the pest control gurus at Orkin put together a list of the Top 50 Bed Bug Destinations in the United States. Which areas do you travel to that you should take extra care to watch out for these blood-sucking insects? Let's countdown to the most bed-bug-riddled city in the United States.
How To Get Rid of Stink Bugs In Michigan...& Keep Them Out
These pesky little critters return every year and every year they give us more and more of a headache.