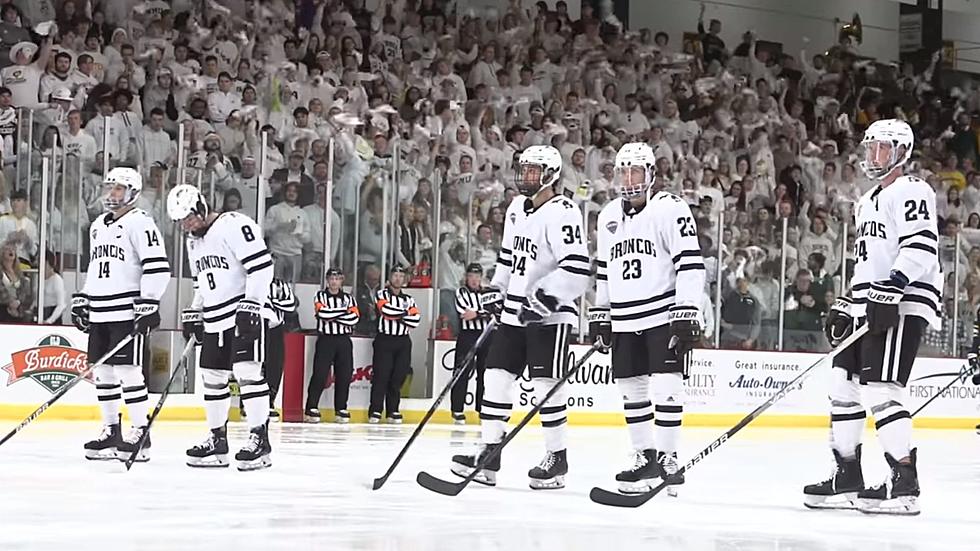 WMU Bronco Hockey's 50th Season Is Trending Toward A Big Finish
Youtube/Everything College Hockey
There's no denying, hockey in Michigan is guaranteed to be fun! In particular, though, the WMU Broncos are putting together a special year under second-year head coach Pat Ferschweiler.
They have one of the most explosive scoring teams in the nation, the highest scoring player in the NCAA, AND it happens to be the program's 50th season. So yeah... it's time to pay attention to the Broncos.
Unless you're already a Lawson Lunatic, you may not have heard much on WMU's season. But right now, the Broncos are ranked 8th in the nation, and have stayed in the Top 10 rankings for most of the season, going as high as the No. 5 spot.
In less than two full seasons with the Broncos, head coach Pat Ferschweiler has the highest win percentage of any head coach at Western Michigan in the 50-year history of the program. (.679) And he SHOULD have a high record, too. He spent four years as an assistant coach for the Detroit Red Wings, and previously spent time as an assistant coach with Western, from 2010-2014, and then again from 2019 until his promotion in 2021.
Under his guidance, the Broncos show no signs of slowing down. They're 21-12-1, running headlong into the end of the regular season, and the highest-scoring offense in the NCAA - 4.17 goals per game.
They ALSO have a superpower in senior Jason Polin, who is leading the nation with 24 goals in 30 games, eight of which came in a three-game stretch in December and January.
So there's almost a certainty the Broncos are headed to Tampa in April for the NCAA Hockey Tournament. And when Ferschweiler was asked if the team was good to go for the postseason, There was no doubt in his mind...
"Oh, we're ready. We're gonna stay together, we're going to believe in each other. And we're going to believe in ourselves individually."
The Broncos will finish the season with a series against Miami (OH) this weekend (March 3-4), then host the NCHC Quarterfinals March 10-12.
Then it's off to St. Paul, Minnesota for the NCHC Frozen Faceoff Tournament before the NCAA Tournament, starting April 8th in Tampa, FL.
The Broncos look good enough to have great showings in both tournaments. What a finish to the team's 50th season if they happened to come home with some hardware!
GO BRONCOS!
The 10 Commandments To Being A WMU Bronco
These are 10 things that are a MUST do on the Campus and surrounding areas of Western Michigan University